This Exists: Iowa Journalist Braves 46 Days Of Lent On Nothing But Beer, Water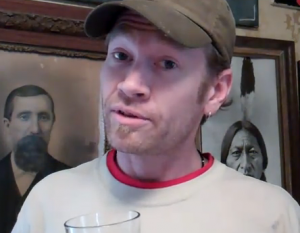 Why didn't I think of this first? The editor of a weekly newspaper in Iowa, J. Wilson, has found a unique story to tell–in a modern, wired way. Wilson, who blogs about beer, has been fascinated by tales of German Paulaner monks who fasted during Lent about three hundred years ago on nothing but water and doppelbock beer, a high carb and high calorie brew which they described as their "liquid bread." Could it work today? Armed with a blog, a video camera and several kegs of his own recipe doppelbock, Wilson set out to see. "The idea is a little bit crazy," he told the Des Moines Register.

Wilson's drinking four 12 ounce beers a day, and lots of water. And yes, he checked with his boss at the paper ahead of time. "Getting drunk is the last thing on my to-do list at this time. This is an historical study."
Here's how things got started after his last solid food on Ash Wednesday:
But this project isn't about me. It's a historical study into the lives of these Christian monks centuries ago. I'm just the vessel. I want to be clear about that. I hope beer lovers' learn something reasonable about Christianity, and I hope Christians learn something reasonable about beer.

As for Day 1 itself, it's been good. I, of course, am not a monk. I loaded two kegs of Illuminator into the back of my Jeep, dropped my boys off at school and hit the office, where I tapped the first keg and had a little breakfast.
So far, he says he's feeling good and getting work done:
On the work front, I've been successful so far, as today we finished our first beer-only newspaper, probably a first for this or any other paper.
Naturally, the beer fast has gotten the attention of morning radio hosts across the continent, drawn to the story of a guy who gets to drink on the job:
Some folks will write this off as boozified stunt, but in actuality, this is a very serious project. I have a job which I mean to keep. I have health which I mean to keep. I have a genuine love for beer, and am very drawn to the rich history it carries. Forty-six days is a long time without food. But if the the Paulaner brothers could do it under the guidance of God, I should be able to as well. A spiritual journey of this nature is no laughing matter, and I very much look forward to sharing it with you.
Here's the most recent video blog post, from YouTube:
Have a tip we should know? tips@mediaite.com