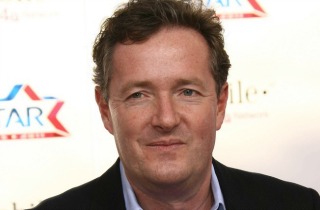 To answer your first question, yes, Piers Morgan is still around and working for The Daily Mail online. And today, he wrote a column defending Dolce & Gabbana from the "bullying" they're getting from Elton John and other celebrities.
And in case you're wondering why Morgan would classify a boycott as bullying, well, the answer's in his headline: "I agree with Elton John about gay rights and parenting but boycotts are just another word for bullying."
RELATED: Dolce & Gabbana Designer Lashes Out at Elton John's 'Ignorant' Boycott
Domenico Dolce and Stefano Gabbana did an interview expressing their disdain with non-traditional families and referred to children conceived with the help of in vitro fertilization as "synthetic children." In response, John called for a boycott and other celebrities joined in.
Morgan repeatedly insisted he's completely on John's side regarding gay rights and using IVF to have children, but dismissed the whole affair as "a bunch of rich, famous people hurling insults at each other."
He can't stand the idea of celebrity boycotts and argues that doing so only punishes "the hard-working staff there… for the political actions of a boss who lives thousands of miles away":
Boycotting Dolce and Gabbana may make Elton and a few celebrities feel better, but all it will do is damage the livelihoods of thousands of innocent Dolce employees and it won't make any difference to the debate on gay rights.
Just as a note of distinction here, Morgan was more concerned with defending the company than the men running it, who he said hold "unpalatable" views (though he did note that they "didn't spew vile bigotry" or anything like that).
Meanwhile, Elton John was caught today not exactly being faithful to his boycott.
[image via Shutterstock]
— —
Follow Josh Feldman on Twitter: @feldmaniac
Have a tip we should know? tips@mediaite.com
Josh Feldman - Senior Editor