Pimp Loses Lawsuit Against Nike for Not Warning Him Sneakers Could Be Used as Weapon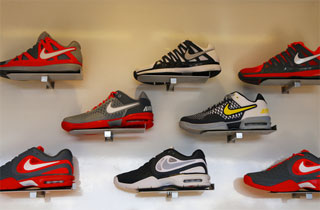 A pimp who filed a $100 million lawsuit against Nike lost yesterday after a judge ruled that no, one cannot stomp on a john's face while wearing Air Jordans and say that the injuries were caused by Nike.
Sirgiorgio Sanford Clardy, 27, had been sentenced to 100 years in prison for a string of batshit insane crimes that led jurors to believe he had absolutely no chance at rehabilitation. In January, he filed a suit against Nike, arguing that they were partially responsible for him injuring a john attempting to skip out on paying him. The injuries were, again, caused by Clardy stomping on the man's face, which required stitches and plastic surgery.
Nevertheless, Clardy insisted that Nike be held responsible for failing to place a warning on his shoes. Nike's lawyers obviously dismissed his claim, arguing that "there's no defect in the shoes, [or] evidence of defect or dangerous condition of these shoes when used normally." (We're going to assume "stomping on people's faces for failing to pay you for an illegal product" doesn't fall in that category.)
According to Oregon Live, Clardy appeared via video feed from prison, asked for a court-appointed attorney (which he couldn't receive in a civil case), and was generally, uh:
When it was his turn to explain why the judge shouldn't agree with Nike and dismiss the case before it could make it to trial, Clardy spoke almost nonstop. The judge repeatedly urged him to speak on topic, about the merits of the case.

"I'm getting to my claim, your honor," Clardy insisted.

The judge also grew tired of warning Clardy to address the issue at hand. After a while, the judge told Clardy his time for arguing was up.

"Mr. Clardy, take a seat," Durham said. "I'm done. I've heard enough …Be quiet. Be quiet, Mr. Clardy. I want you to remain quiet, right now. That's all I want you to do."
[Oregon Live!]
[Image via Leonard Zhukovsky / Shutterstock.com]
—
>> Follow Tina Nguyen (@Tina_Nguyen) on Twitter
Have a tip we should know? tips@mediaite.com