Pinhead Vs Patriot? Jon Stewart Goes On O'Reilly Factor For Ideological Debate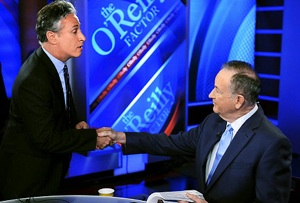 In some respects, this had the potential to be the perfect discussion to repair a fiercely bipartisan political landscape. On the left, we have Jon Stewart, the host of the influential program The Daily Show. He is adored by his audience and is out promoting a new book called Earth.
Representing the right we have Bill O'Reilly , host of the influential program The O'Reilly Factor. He also is adored by his audience and is promoting a book entitled Pinheads and Patriots. While both are canonized by their fans and vilified by their detractors, neither are afraid to surprise their viewers with the occasional critique political figures that some would see as allies.
This evening Stewart joined O'Reilly at the Fox News midtown studios for some mutually respectful and highly entertaining discourse, a follow-up to the last joint appearance which occurred back in February.
O'Reilly went right at it, asking Stewart if he regretted not voting for Senator John McCain, or "Obama remorse" as he called it. Stewart did not demure in reaffirming his support for the President, though he did add that he saw Obama running as a "visionary" and acting more as a "functionary" in office. As for the "Messiah thing"? Stewart said "Look, I don't buy the 'messiah thing' when it comes to the real 'messiah thing.'"
The last meeting of two of the most popular broadcasting icons of the day had an air of a heavyweight battle; two champs representing opposite ideological perspectives. This meeting seemed less tense, perhaps because expectations for fireworks were muted by the last, surprisingly jovial taping. In fact, the comedic timing and chemistry between the two is actually pretty good. If for some reason the stars re-align and both find themselves without a television program, they could easily join up sitcom featuring the unlikeliest of friends.
Enjoy the video below.
Have a tip we should know? tips@mediaite.com