Police Dash Cam Video Released Amid Investigation Into Sandra Bland's Death in Prison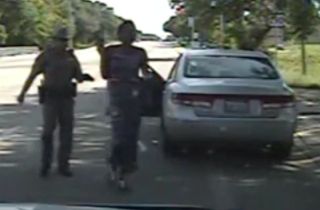 Waller County, Texas police are conducting an investigation into the death of Sandra Bland in a prison cell. Bland was arrested earlier this month for allegedly assaulting a cop, and was found dead in her cell three days later.
Her death was another spark that set off outrage amongst Black Lives Matter activists, who have demanded answers for the circumstances of her death.
Officials initially said it seemed to be a case of suicide, but the county district attorney said yesterday that "this investigation is still being treated just as it would be a murder investigation."
The dash cam video today shows her entire confrontation with Officer Brian Encinia. He pulled her over for failing to signal a lane change, but after he asked her to put out her cigarette and she refused, he started telling Bland to get out of her car.
Bland refused and said he doesn't have the right to do this. Encinia repeatedly shouted at her to get out, saying, "Get out of the car! I will light you up!"
She eventually did get out of the car, complaining about being pulled over and dropping a few profanities here and there. Encinia arrested her on the sidewalk, and she shouted at him to stop breaking her wrists. The arrest itself isn't on video, but you can hear the officer shouting at her to stop.
In the arrest affidavit, Encinia said, "Bland began swinging her elbows at me and then kicked my right leg in the shin. I had a pain in my right leg and suffered small cuts on my right hand."
The Texas Department of Public Safety said today Encinia has been put on administrative duty for violating procedures.
You can watch the dash cam video here, via NBC News:
[image via screengrab]
— —
Follow Josh Feldman on Twitter: @feldmaniac
Have a tip we should know? tips@mediaite.com
Josh Feldman - Senior Editor