Political Bombshell? Slate Reports That Jon Huntsman Doesn't Really Know Mandarin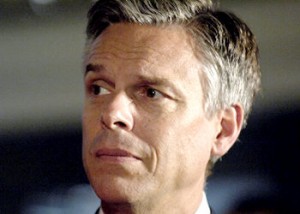 Is Jon Huntsman a phony? According to Slate writer Geoffrey Sant, who is a "commentator on Chinese-language media", the Utah Governor is not really fluent in Chinese as he has frequently claimed and has bungled it each time he's spoken it on various news programs.
Sant notes that Huntsman has been widely described as fluent in Mandarin in countless published sources (Esquire, The Economist, even Mediaite!) Sant claims that Huntsman botched Mandarin in both his interviews with Stephen Colbert and Piers Morgan.
In this brief and simple sentence, Huntsman managed to (incorrectly) insert the word America in the middle of the Chinese word for vice president (fu-zong-tong); made a less-than-ideal choice of verbs; and combined my and American vice president in a way that implies (in Chinese) that Huntsman possesses his own personal vice president of the United States.

On Piers Morgan Tonight, Piers Morgan asked Huntsman to speak in Mandarin, and then immediately proclaimed what he heard as "spectacularly good" despite not understanding any of it. (As Huntsman himself responded, "How do you know?")
RELATED: Gretchen Carlson To Jon Huntsman's Daughters: Why Is Your Dad At 0% In The Polls?
Sant does concede that Huntsman "does speak some Chinese, and was deeply involved in policy while ambassador to China," but that doesn't mean that journalists should celebrate his few maladroitly spoken Chinese sentences as "spectacularly good" as Piers Morgan conjectured. While some may argue any publicity is good publicity, this revelation will probably not improve the Utah Governor's 0% national polling.
Update: John Huntsman's daughters responded to the article via tweet: "Any fluent linguist would know that going from Mandarin-English isn't usually a direct translation. Better luck next time @slate magazine."
Have a tip we should know? tips@mediaite.com