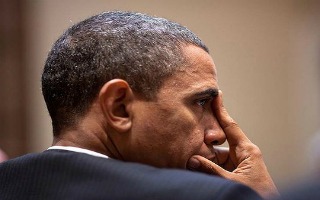 On Friday, Politico's Mike Allen and Jim Vandehei published a column that savages President Barack Obama's 2012 reelection team for a lackluster rollout. "[N]othing inspires more angst [among Democrats] than when that same Obama stumbles, as he has leaving the gate in 2012," reads the Politico editorial. "That's the unmistakable reality for Democrats."

RELATED: NY Times Buries The Lede: Anderson Cooper's Ratings Surge At 8PM
Politico notes that the President is facing a mutiny over his campaign's attacks on Republican presidential candidate Mitt Romney's tenure with the private equity firm Bain Capital from within his own party. His intraparty woes have been compounded by Vice President Joe Biden's missteps which cast him as a "distraction" rather than the "potent working-class weapon" that he had been and which helped land him a spot on the ticket in 2008.
Obama's campaign team is unflustered by these developments. The Politico editorial makes sure to mention that these events could be a bump on a long road to November, but while Romney appears solid, "Obama has looked unsteady."
Further complicating Obama's reelection efforts, Politico quotes Democratic operatives who are now willing to anonymously voice their sense of panic that the campaign losing the momentum:
I feel like they are overly relying on the have-nots out-voting the haves," said one well-known Democrat close to the campaign. "The economy has gotten a lot better for a lot of people. Instead of making those people feel good about growing businesses, the campaign seems to assume that angry people will prevail. There were successful business leaders in the 2008 coalition, who wanted to use their success to do good. We're losing that inspiration."
They say that the President's focus on energizing students, women, homosexuals and a variety of Democratic constituent groups makes the president look small when, as one 2008 campaign veteran put it, "This guy's narrative is to be big."
With a rocky economic recovery that could be halted by turmoil in Europe, the future is anything but certain for the Obama campaign.
Romney has galvanized the right more quickly than expected, and has shown discipline in sticking to an economic message, even when gay marriage was dominating the headlines. His Boston headquarters is more confident than ever, at the same time that so many Democrats are getting the willies.
Obama's Chicago team has reason to be nervous. The Romney campaign has not demonstrated so much political acumen as Obama's allies have shown themselves to be clumsy and undisciplined. Their messaging has not been coordinated and there have been so many defections from the President's preferred narratives that they have become impossible to ignore.
Democrat's face a problematic convention in North Carolina and economic and job growth – which had appeared stable in the first months of 2012 – that now seems to be waning.
June may deliver even worse news for Democrats: A potentially failed gubernatorial recall effort in Wisconsin threatens to drain time, money and energy from Obama's supporters in a key swing state. The Supreme Court that could further harm the President by handing down damaging verdicts on the Obama's health care reform law and the Justice Department's lawsuit against Arizona's immigration law.
The summer, a time when the President's team should be converting support into energy and conveying a sense of inevitability ahead of autumn's full court press, could be dominated by news and events that are beyond the control of the Obama campaign. The image of the President, buffeted by fate, would be deeply wounding and could sap energy and confidence from Obama's supporters.
If Politico and Democrats area panicking already – just wait. The tough times for Obama's reelection team are just beginning.
h/t Politico
Have a tip we should know? tips@mediaite.com