PolitiFact Gives Wasserman Schultz a 'False' Rating for 'Very Disingenuous' Debate Claim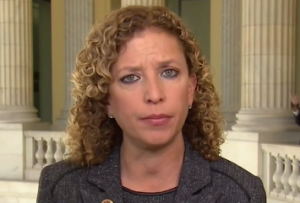 The Democrats have had four debates so far. Three of them have been held on the weekend, and one of those fell on the Saturday before Christmas. So, naturally, there's a lot of speculation that this was a deliberate decision to limit exposure to the debates and help Hillary Clinton.
Clinton this week claimed no knowledge of such a thing, and on CNN this past Sunday, DNC Chair Debbie Wasserman Schultz insisted the debate schedule was set up to "maximize" candidate exposure.
That statement invited a whole lot of ridicule, and PolitiFact looked into that curious claim. And their conclusion? It's false and patently ridiculous on its false.
They illustrate how the GOP debates have overall gotten much better ratings and, in spite of the fact that Donald Trump may have something to do with that, it's not as if putting debates on weekends opposite football games and popular primetime programming is giving the Democrats the kind of exposure they really want.
They conclude thusly:
Wasserman Schultz's best point is that the Democrats largely scheduled their debates with TV networks, which means viewers without cable can see them. But other than that, her statement is very disingenuous.

There are six Democratic party debates compared with 11 scheduled for the Republicans, and half of the Democratic debates are on weekends — including one the weekend before Christmas and another on the Martin Luther King Jr. holiday weekend. If the Democrats had wanted to "maximize" opportunities for viewers, the party could have added more debates, scheduled them on weekdays and avoided holidays.

We rate this claim False.
[image via screengrab]
— —
Follow Josh Feldman on Twitter: @feldmaniac
Have a tip we should know? tips@mediaite.com
Josh Feldman - Senior Editor