Politifact Rates Lawrence O'Donnell Lean Forward Ad 'Mostly False' For Comments About GI Bill
Politifact
Rates Lawrence O'Donnell Lean Forward Ad 'Mostly False'...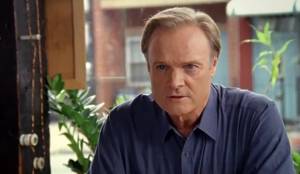 Lawrence O'Donnell's new "Lean Forward" ad for MSNBC takes on the GI bill passed during World War II to take care of soliders returning home from war. In the promo, O'Donnell described the bill as "the most successful educational program that we've ever had in this country" even though its opponents referred to it as welfare. But according to Politifact, that statement is not accurate.
RELATED: PolitiFact Responds To Rachel Maddow's Criticism: 'We Don't Expect Our Readers To Agree With Every Ruling'
Politifact did some digging and found that the comparison O'Donnell was trying to make between past and current politics fell flat, because no one was calling the GI bill welfare at the time.
The VA's web post is silent on the act's progress through Congress — and any related criticism.

Next, we turned to the American Legion's online post of a 1949 article by a Washington reporter, David Camelon, recapping the law's roots. This story says the American Legion drafted the proposal in 1943 and lobbied for it the first part of 1944 — surprisingly drawing early opposition from other veterans groups, including the Disabled American Veterans.

According to the article, that group's representative, Millard Rice, sent a Feb. 22, 1944, letter to Walter George, chairman of the Senate Finance Committee, objecting to the proposed unemployment benefits. Rice's letter said, in part: "The lazy and 'chisely' types of veterans would get the most benefits, whereas the resourceful, industrious and conscientious veterans would get the least benefits, if any." The article says Rice and others assumed too many veterans would idle for the 52 weeks of unemployment payments.
An MSNBC spokesperson sent Politifact examples, but the word welfare is never used, and Politifact concluded on the Mostly False rating.
Watch the ad below, courtesy of MSNBC:
h/t Huffington Post
Have a tip we should know? tips@mediaite.com
Josh Feldman - Senior Editor