As the potential 2016 field of candidates continuing to settle on the Republican side, surveys continue to indicate that former Secretary of State Hillary Clinton maintains a large lead over her potential Democratic challengers. But if Clinton does become the Democratic presidential nominee, a recent Gallup survey suggests that the traits and issues that she can run on which also resonate with voters are presently limited.
A survey conducted by Gallup shows that, of the "personal characteristics" relating to Clinton they asked voters about, being a woman was by far the most important to those inclined to support her candidacy.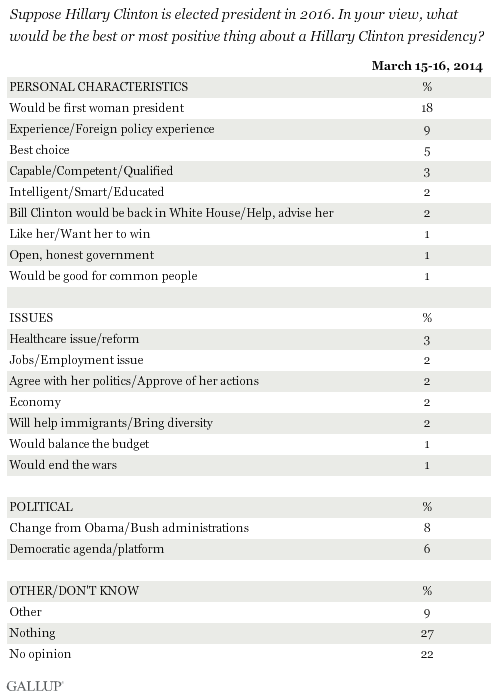 Of those character traits Gallup asked voters about, 18 percent said that being the "first woman president" would be "the best or most positive thing about a Hillary Clinton presidency."
"Clearly Clinton's 'unique selling proposition' is that she would be the first woman president," Gallup's Frank Newport wrote. "Nearly one in five Americans mention this historic possibility as a positive, including 22% of women, 27% of 18- to 29-year-olds, and 30% of Democrats." Republicans and independents, too, say Clinton's gender would be the most positive thing about a Clinton presidency.
Coming in a distant second place, with 9 percent of voters, was Clinton's "foreign policy experience." Only 5 percent said Clinton was the "best choice" for the presidency and 3 percent said that she was "competent" or "qualified."
She scored even worse when it comes to the issues she supports. 3 percent or less cited specific issues that Clinton champions as reasons why her presidency would be a "positive thing."
Clinton scored slightly better on political issues. 8 percent of potential Clinton supporters are eager to see a "change from Obama/Bush administrations" and another 6 percent say they support the "Democratic agenda."
But, by far, the option voters cited most when asked what the most "positive thing" about a Clinton presidency would be was "nothing." 27 percent said they could not think of anything that would be good about seeing Hillary Clinton in the White House. Another 22 percent expressed "no opinion on the matter.
However, when the inverse of this question was asked, another 22 percent of voters said that "nothing" would be "the most negative" effect of a second Clinton presidency. Another 25 percent expressed no opinion on that question. Only 6 percent said that Clinton was not qualified to be the president.
Somewhat ironically, when broken down by partisan affiliation, Democrats who are not inclined to support Clinton say the "worst thing" about a Clinton presidency is the fact that they "don't want a female president." The most cited response among Republicans and independents was that they do not want to continue on the course the Obama administration has set for the nation.
This survey was conducted from March 15 – 16 of 1,024 adults and has a margin of error of +/- 4.0 percent.
[Photo via Larry Downing / Reuters]
— —
> >Follow Noah Rothman (@NoahCRothman) on Twitter
Have a tip we should know? [email protected]