Poll: Majority Of Whites See America As Colorblind, Nearly 80% Of African-Americans Do Not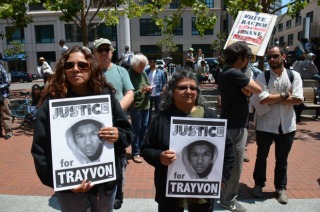 A new NBC News/Wall Street Journal poll digging into some of the fallout from the verdict in the trial of George Zimmerman found that Americans are deeply split over questions relating to racial equality. The survey found that a majority white Americans believe the United States is a colorblind society while less than 20 percent of African-Americans say the same.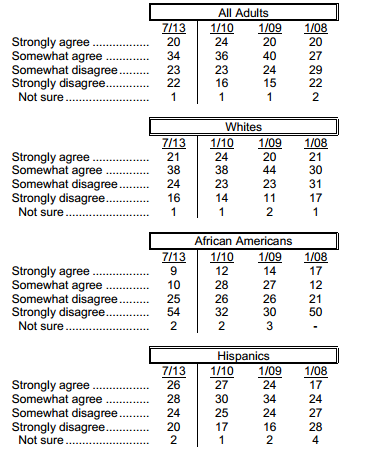 Asked if they agree with the statement, "America is a nation where people are not judged by the color of their skin but by the content of their character," respondents in the latest NBC/WSJ poll offered widely varying responses.
A majority, 54 percent, of all adults said that they agree with this statement, while 45 said they did not. Among whites, 59 percent agreed with that statement to some degree while just 40 percent disagreed. 54 percent of Hispanics also agreed with this statement, while 44 percent did onto Among blacks, however, only 19 percent agreed with that statement. 79 percent of African-Americans disagreed with the statement that America society is colorblind.
The Zimmerman trial has most certainly had an impact on how blacks respond to this question. In January, 2010, 40 percent of African-Americans agreed with the notion that America judged individuals based on character and not skin color while 58 percent disagreed. In January, 2009, in the wake of President Barack Obama's election, 56 percent of African Americans believed America was not an entirely colorblind society.
NBC News Senior Political Editor Mark Murray noted in an analysis of the poll's findings that the Zimmerman verdict may be having an impact on Obama's job approval rating as well. The survey found President Barack Obama with his lowest approval rating since August, 2011, with just 45 percent approval.
"The drop is explained in part by an erosion in support among African-American respondents – 78 percent approve of his job, down from 88 percent in June and 93 percent in April," Murray writes. "(The NBC/WSJ pollsters speculate that George Zimmerman's acquittal in the shooting death of Trayvon Martin could explain this drop, especially given African Americans' increased pessimism about the nation's direction, according to the survey. The poll was conducted after the verdict, and before and after the president's recent speech on Martin's death.)"
> >Follow Noah Rothman (@NoahCRothman) on Twitter
Have a tip we should know? tips@mediaite.com