Polls: Interest In Gun Debate Increases Even After Boston Bombing, Guns As Important As Terrorism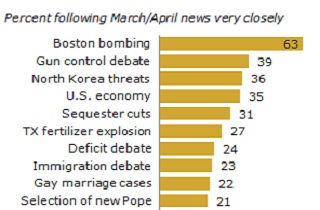 A raft of recent polls has served to undercut the conservative narrative that the general public's interest in the debate over gun violence is waning in breadth and intensity. Public Policy Polling surveys this past week have shown that votes against the Toomey/Manchin background check bill are becoming political lead poisoning for six legislators, and a Pew poll showed significantly more disapproval of that vote than approval. According to two new polls, interest in the gun debate actually increased during the news cycles that included the Boston Marathon bombings, and Americans view guns and terrorism equally as the most important problem facing this country.
Politicians counting on Americans to forget about Newtown when they go to the ballot box next year may be in for a surprise. A pair of recent PPP polls shows that "no" votes from Senators Kelly Ayotte (R-NH), Jeff Flake(R-AZ, NRA rating=A), Lisa Murkowski (R-AK, NRA rating=A), Mark Begich (D-AK, NRA rating=D),Rob Portman (R-OH, NRA rating=A), and Dean Heller (R-NV, NRA rating=A) have dropped them into varying degrees of hot water with voters. Another poll from Pew showed that, while overall dissatisfaction with the vote did not match the 90% approval of background checks, many more Americans were disappointed or angry about the Senate's failure to pass background checks than those who were relieved or happy.
A pair of new polls shows that even in the wake of the Boston Marathon bombings, the public's interest in the gun control debate has actually increased, and the number of Americans who identify guns as the most important problem facing this country is equal to the number who answer "terrorism" to the same question.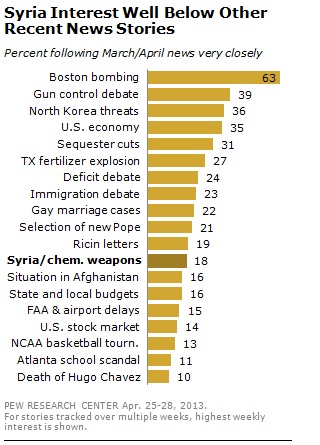 In Pew's News Interest Survey, the gun debate has led all other news stories since mid-January, peaking at 43% following the story very closely on Jan. 20, and holding at 37% in the past two surveys. The most recent study, taken April 25-28, understandably showed the Boston Marathon bombings at the top of the News Interest Index, with 63% of respondents following that story very closely. However, the percentage of Americans following the gun control debate very closely actually increased to 39% during that period, leading all other news stories. Anyone who tells you that Americans don't really care about the gun debate is fooling you, and possibly themselves.
Another poll question that has been pushed to reinforce the narrative that Americans "don't care" about guns is one in which respondents are asked to volunteer what they think is the most important problem facing the country. As I have noted before, this question is a poor metric of anything other than Americans' single-minded anxiety about money, but to the extent it has any value in the gun debate, the results show guns compare favorably to other non-economic issues. Gallup's most recent survey showed that the percentage of people naming "guns" as the single-most important problem facing the country went from 0% before Newtown to 4% after, where it remained essentially flat, and in a statistical tie with just about every other non-economic issue.
In a new New York Times/CBS News poll, the same question was asked, and the same percentage of Americans, 3%, named "guns" and "terrorism," respectively, as the single most important problem facing this country. Among non-economic issues, only "immigration" (4%) and "politicians/government" (5%) were more frequently named. Perhaps more significantly, this April 24-28 poll was the first time guns registered at all on this poll, meaning that to the extent this question measures anything, all of the concern about guns has sprung up this past month.
Time will tell if this intensity can be sustained until 2014 and beyond, and translated into votes, but so far, the gun debate is holding the public's interest, and apparently, its ire. Much of the gun debate's future depends on how the media treats it, and depends particularly on them not falling for the false "nobody cares" narrative.
Have a tip we should know? tips@mediaite.com