Pray The Gay Away? Alabama Government Agency Begins Meeting With Anti-Gay Marriage Prayer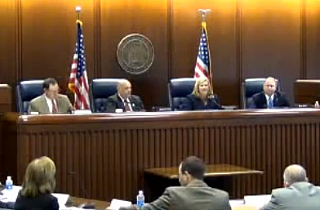 The Alabama Public Service Commission apparently begins all of its meetings with a prayer session, but a recent one from last week took on what some consider an unusually political message, lamenting the "sinful" ways of those who allow gay marriage, abortion, and the "removal" of God from public schools.
APSC commissioner Twinkle Cavanaugh introduced her friend, John Delwin Jordan, a member of her local baptist church and an active Prattville Tea Party leader. Jordan began his prayer session imploring the meeting attendees to hold their hand up if they "believe in the power of prayer."
The end of the four-minute prayer saw a turn from the theological to the political, with Jordan lamenting aloud: "God, we've taken you out of our schools, we've taken you out of our prayers, we've murdered your children, we've said it's OK to have same-sex marriage. God, we have sinned. And we ask once again that you'll forgive us of our sins."
-RELATED: Christian Radio Host: God Didn't Stop CT Shooting Because We Took Prayer Out Of Classroom
Prayer at government meetings has long been the subject of constitutional debate. Some organizations like the Freedom from Religion Foundation argue that government prayer sessions are "coercive" in nature and violate the principle of separating Church from State by endorsing a particular faith; Christian activists maintain it is within their freedom of religious expression to hold prayer sessions during government meetings.
The United States Supreme Court has recently agreed to hear a New York case on prayer at government meetings during its next term beginning in October. A final ruling is expected in June 2014.
Watch below, as flagged by RightWingWatch:
— —
>> Follow Andrew Kirell (@AndrewKirell) on Twitter
Have a tip we should know? tips@mediaite.com