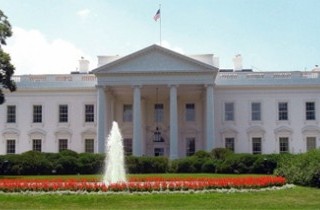 Donald Trump might be America's next president, but a report suggests that he might want to divide his time between the White House and his swanky New York penthouse.
According to advisers that spoke with The New York Times, the mogul is talking about finding ways to reside in the president's mansion, while spending time at his various residences during the weekends. Aside from Trump Tower, Trump is talking about how he might be able to still visit at his golf course in New Jersey and his Mar-a-Lago estate in Florida.
As the advisers noted, Trump has a deep attachment to his current homes, and he often made late night trips during his campaign so that he could sleep in his own bedroom. "He has told [his advisers] he would like to do what he is used to, which is spending time in New York when he can," the Times wrote.
Trump's advisers said that the mogul was impressed with the White House during his meeting this week with President Obama, and that they hope he becomes more accustomed to living there once he becomes "less overwhelmed and more comfortable" with the presidency. They also said that Trump was "shocked" by his election win and he's still "coming to grips with the fact that his life is about to change radically."
Aside from his living arrangements, Trump's aides also said that he wants to maintain other aspects of his pre-victory lifestyle. One of the biggest examples mentioned was that Trump wants to keep holding campaign-like rallies in order to give himself a kick from the "instant gratification and adulation that the cheering crowds provide."
[Image via screengrab]
— —
>> Follow Ken Meyer (@KenMeyer91) on Twitter
Have a tip we should know? tips@mediaite.com