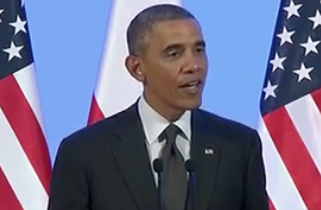 We interrupt your important, world-changing news for this brief announcement: President Obama talked about Polish video games. Specifically, The Witcher 2. Specifically, the copy of that game presented to him as a gift in 2011 by Polish Prime Minister Donald Tusk. The Witcher series is a massively popular video game franchise (based on a series of novels and short stories) developed by the Polish gaming studio CD Projekt RED.
Three years ago, Obama got The Witcher 2 as a gift from Tusk, and so during a joint press conference with Tusk today, the president addressed the gift he got and all but outright admitted he hasn't really played it yet.
Here's what Obama said in full.
"The last time I was here, Donald gave me a gift, the video game developed here in Poland that's won fans the world over, The Witcher. I confess, I'm not very good at video games, but I've been told that it is a great example of Poland's place in the new global economy. And it's a tribute to the talents and work ethic of the Polish people as well as the wise stewardship of Polish leaders like Prime Minister Tusk."
Well, the solution is obvious, then: invite Tusk for one of those fancy White House state dinners, and after the fun's over, the two world leaders can retire to the presidential game room and figure this thing out.
You can watch Obama's comments below (though you'll have to ignore the Polish translation):
[h/t AV Club]
[image via screengrab]
— —
Follow Josh Feldman on Twitter: @feldmaniac
Have a tip we should know? tips@mediaite.com
Josh Feldman - Senior Editor