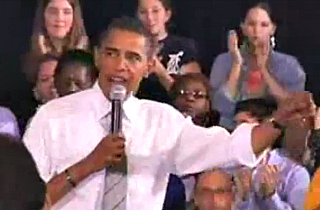 Yesterday, President Barack Obama told parents that it was extremely important to vaccinate their children in the wake of a recent nationwide measles outbreak. "I understand that there are families that, in some cases, are concerned about the effect of vaccinations," Obama told Savannah Guthrie. "The science is, you know, pretty indisputable."
This is a somewhat different position than he took before he became President: As the Washington Post reported back in 2008, Obama said that the vaccine-autism link could possibly exist during a Pennsylvania town hall, after being asked about how the government planned to fund special education for autistic children. Notably, it appears that the man in the audience did not ask about vaccines, but in any case, Obama made the connection:
"We've seen just a skyrocketing autism rate. Some people are suspicious that it's connected to the vaccines. This person included. [Points to someone in the audience.] The science right now is inconclusive, but we have to research it. We can't afford to junk our vaccine system, we have to figure out what's happening. If we keep on seeing the increases in the rate we're seeing, we're never going to have enough money" to take care of these children.
Regardless, the Post gave Obama two Pinocchios (their ranking for statements filled with falsehoods) for suggesting that the science was, even in 2008, inconclusive: "The overwhelming weight of scientific opinion is that there is no proven link between autism and the vaccines which include a mercury-containing preservative known as thimerosal," they wrote, following that statement with links to at least a dozen studies supporting that claim.
(Before you start blasting Obama for his small concession to anti-vaxxers, however, the Post noted that his GOP opponent Sen. John McCain also said there's "strong evidence that indicates [the rise in autism has] got to do with a preservative in vaccines" in 2008.)
[h/t Dr. Brendan Nyhan]
[Image via screenshot]
—
>> Follow Tina Nguyen (@Tina_Nguyen) on Twitter
Have a tip we should know? tips@mediaite.com