Trump Crosses Red Line By Invoking '11 Year-Old Barron' to Mock Russia Investigation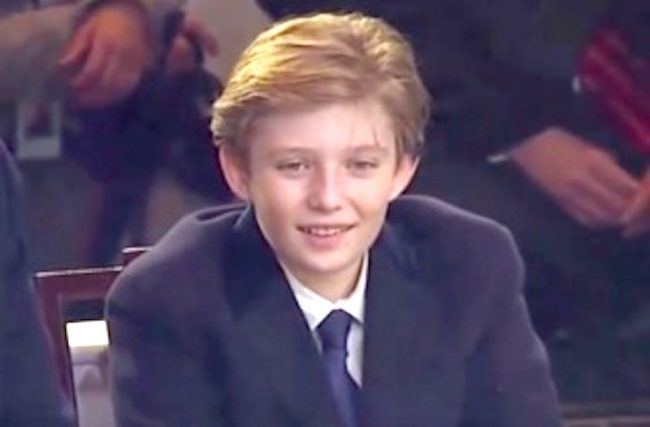 President Donald Trump appears to have started the day with a tweet storm in which he called his Attorney General Jeff Sessions "weak" and questioned why there was no investigation into Hillary Clinton. But mentioning his youngest son Barron Trump in his mocking of the ongoing investigation of Russian interference in the 2016 General Election is sure to raise eyebrows, and sets a dangerous precedent moving forward.
Jared Kushner did very well yesterday in trying to prove he did not collude with the Russians. Witch Hunt. Next up, 11 year old Barron Trump!

— Donald J. Trump (@realDonaldTrump) July 25, 2017
This tweet flies in the face of a White House statement released earlier this year which asked that Barron Trump be left alone.
"It is a longstanding tradition that the children of Presidents are afforded the opportunity to grow up outside of the political spotlight," the White House Office of the Press Secretary said in a statement released in late January, adding "the White House fully expects this tradition to continue. We appreciate your cooperation in this matter," the statement read.
Even Chelsea Clinton echoed the same sentiment, saying "let him be a kid." But the President's use of his son as an, albeit tame, political joke, appears to flout the idea of leaving his youngest son out of the current poisonous political discourse.
The use of a president's children as political targets and props has long been considered off-limits from the more reasonable sides of both parties. It's why we rarely saw jokes and attacks at the expense of a young Chelsea Clinton, Jenna and Barbara Bush, and more recently, Malia and Sasha Obama. Yes, there were occasional jokes, but they were the exceptions to the rule — a rule that President Trump seems to be ignoring to some degree now.
Trump's older children are generally considered "fair game" both because they are adults and have all played — to varying degrees — very active roles in their father's business, campaign and administration. And as Chelsea Clinton has become more engaged in her parents' "business," she has opened herself to fair criticism as well.
The private lives of minors, however, should be a third rail.
Previous jokes at the expense of Barron were pretty much derided with bipartisan critiques (which even led to an apology from longtime Trump foe Rosie O'Donnell). And as his father noted in his tweet, Barron is just an 11 year-old boy who is likely trying to adjust to a suddenly strange and new environment of living under the microscope at the White House.
But now that his own father is citing him in a political tweet, the most passionate (and perhaps unreasonable) anti-Trump critics and trolls are certain to cite this tweet as a signal that Barron is fair game for a political attack.
Trump has shattered many D.C. mores before, but this one is a real shame.
Let's all hope that the President's political foes show more restraint than Trump does by leaving the 11 year-old on the sidelines of a political debate, where he belongs.
Colby Hall is the Managing Editor of Mediatie and has never once used his sons (aged 14 and 10) as political pawns. Follow him on Twitter @colbyhall.
This is an opinion piece. The views expressed in this article are those of just the author.