Since South African sprinter Caster Semenya, 18, won the gold medal in the women's 800m at last month's world track championships in Berlin, she's received a hero's welcome in a South Africa, a new house from her local government and a barrage of very public, very serious and very embarrassing challenges to her gender. And then, of course, there was a swift response to the challenges — claims that they were racist, claims that they were outdated, claims that they were heinous and inhumane.
"I shudder to think of a global stakeout demanding Caster Semenya prove she is a woman by somehow disproving her apparent masculinity or sufficiently compensating for her lack of femininity — whatever that is," wrote ESPN's Mary Buckheit at the end of the month.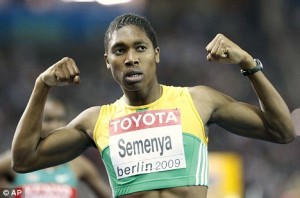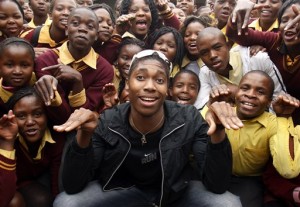 But if you have seen pictures of Semenya, let alone seen her torch her competition in a footrace (video below), you can't help but wonder about her sex; forget how politically incorrect the thought might be, she does look like a man. So it really came as no surprise yesterday when Sydney's Daily Telegraph reported that testing by the International Association of Athletic Federation revealed that Semenya has internal testes, no womb or ovaries and produces three times the normal amount of testosterone as a normal female.
THe IAAF won't confirm or deny the reports, saying only that there are test results and that they need to be reviewed, and there will be no official test results before November.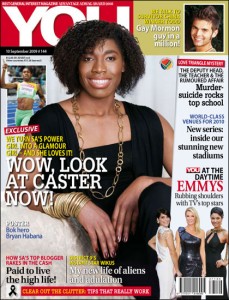 In the meantime, Semenya has launched her own PR campaign of sorts, appearing on the cover of South Africa's You magazine, sans cornrows, dressed in a designer dress and sporting nail polish.
Ultimately the IAAF test results are irrelevant. Semenya will probably keep her medal because she did nothing to cheat. And it would be insane to think that her gender would only become a problem after a lifetime of training and a world championship. There is no doubt that this testes-hunt is more vindictive than anything else.
Semenya's story has become a battle to save face, a battle to save herself from humiliation — the same humiliation that led Indian runner Santhi Soundarajan to attempt suicide, according to rumor, after she lost her 2006 Asia Games Women 800m silver medal. Ultimately, this has become a battle for good, gender-reaffirming press.
Winnie Madikizela-Mandela, ex-wife Nelson Mandela, who called Semenya "our little girl," had this to say to South Africa's press: "Use the freedom of press we gave you properly, because we can take it from you." Ummm.
Photos courtesy of the AP.
Have a tip we should know? tips@mediaite.com