Protesters March Nationwide in Support of Mueller: 'Trump is Not Above the Law!'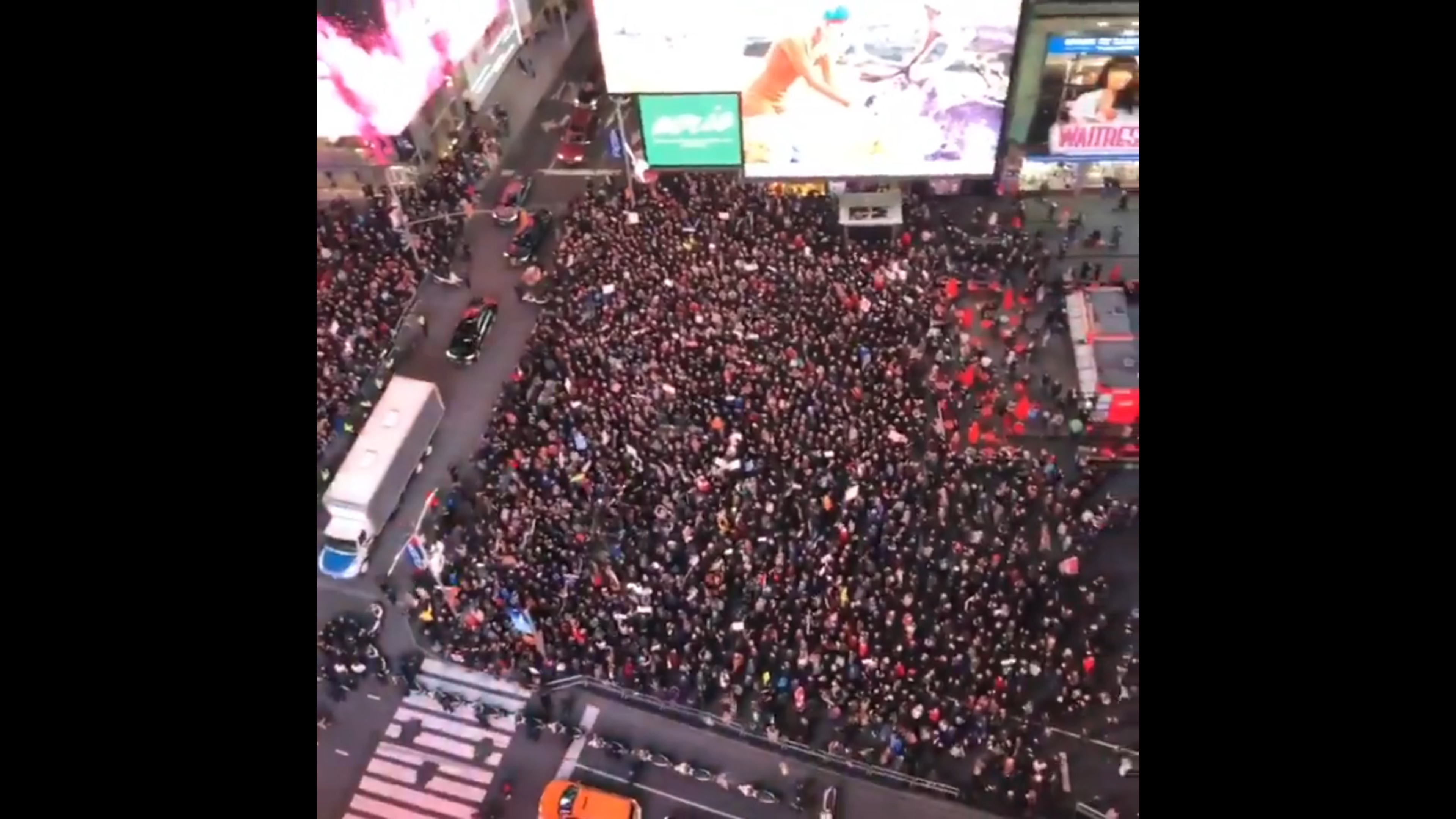 After President Donald Trump fired Attorney General Jeff Sessions Wednesday, tapping Chief of Staff Matthew Whitaker to take his place, protesters descended upon cities across the country to defend Special Counsel Robert Mueller.
Footage of the Thursday demonstrations, which are being tweeted about with the hashtag #ProtectMueller, show crowds of marchers chanting "Trump is not above the law!"
According to sources who spoke with CNN, Mueller's team has already begun writing the final report on the Russia probe. However, questions have been raised as to whether the investigation will be safeguarded from Whitaker, who has criticized it in the past.
Rallies were seen in New York City and Washington, D.C., reaching Boston, Chicago and other major cities as well.
According to an email sent out by MoveOn, which organized the day of action, the rallies are intended "to show that we won't let Donald Trump become the authoritarian that he aspires to be."
"The law applies to all of us, and it's essential that it also applies to the most powerful people in our country," it read.
Check out images of the demonstrations below:
Mother Jones's @MarkHelenowski & @samvanpee are at Times Square covering the #ProtectMueller rally. Here's what it's looking like right now: pic.twitter.com/KF4xifatE6

— Mother Jones (@MotherJones) November 8, 2018
The #ProtectMueller crowd keeps growing! pic.twitter.com/7KvYY0fL5t

— David Levy (@itsdlevy) November 8, 2018
We're at the White House calling on Congress to #ProtectMueller. pic.twitter.com/3yNnTtn3Py

— American Constitution Society (@acslaw) November 8, 2018
LIVE: Protests demanding the Senate #ProtectMueller break out across the country in over 900 locations. https://t.co/d2AFkUmDJs

— Scott Dworkin (@funder) November 8, 2018
Massive turnout at Baltimore's #ProtectMueller protest at War Memorial Plaza downtown — happening now.@RepSarbanes just said "The Democrats didn't take back the House — the PEOPLE took back the House." Amen. pic.twitter.com/GKfzGGtcFm

— Indivisible Baltimore (@indivisible410) November 8, 2018
WATCH: Demonstrators march toward Trump Tower in Chicago to protest perceived efforts to undermind Mueller's investigation pic.twitter.com/hmq9dKVf8R

— TicToc by Bloomberg (@tictoc) November 9, 2018
Protest aimed at protecting the Mueller investigation happening now in Chicago. Hundreds gathered. @cbschicago pic.twitter.com/3uuWLTVIlf

— Wendy Widom (@wendywidom) November 8, 2018
#ProtectMueller protests have broken out nationwide, with crowds calling for the Mueller investigation to be protected after Pres. Trump fired the attorney general pic.twitter.com/tB7DHprGPl

— NowThis (@nowthisnews) November 9, 2018
[image via screengrab]
Have a tip we should know? tips@mediaite.com