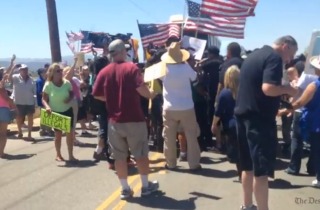 Buses of undocumented immigrants were being sent today to a U.S. Customs and Border facility in Murrieta, California, but the buses had to turn away after protestors in the town physically blocked the buses from entering. The buses' occupants, according to the L.A. Times, are "primarily children accompanied by mothers or fathers."
Alan Long, the mayor of Murietta, spoke out on the transfer Monday. Long voiced opposition to the transfer and encouraged residents to speak out on it too, but assured that local authorities have prepared to deal with any potential security issues.
But that became irrelevant today when protestors physically blocked the buses, some waiting from the early morning to protest. And so, because the buses couldn't actually get to where they needed to go, they turned around and headed for a border station in San Ysidro.
You can watch raw video (warning: autoplay) of the protests here, via The Desert Sun:
The incident has inspired some strong feelings on Twitter.
Real truth behind the immigrants being dropped off in Murrieta. Let them be free. pic.twitter.com/lnKNpTJUps

— Katana Veski (@XOKATANA) July 1, 2014
140 immigrants in Murrieta. If one of them gets a job before I do there's gonna be some anger let me tell you.

— AK (@KVBSKI) July 1, 2014
Despicable. They're children, trying to escape horrible conditions. American dream, my ass. http://t.co/0UDItInpR2

— Bit.Chaos (@AndyJayDee) July 2, 2014
Glad I moved back to L.A. last year from that racist haven Murrieta. The area was great but 97% of the ppl are racist/ bigots.

— psychedelicatessen (@MentalRiot) July 2, 2014
Thanks to our dictator we now have immigrants coming into Murrieta for no reason, even though we can't even take care of our own people.

— Co̸urtney Eagar (@courteags) July 1, 2014
THIS GIVES ME HOPE FOR OUR COUNTRY AND OUR VETERANS! GOD BLESS EVERY PROTESTER THERE! http://t.co/o9Ppniwxm4

— melanie faulkner (@mefbama) July 2, 2014
I'm not at all surprised at what happened in #Murrieta today. It's a mecca for so called "Patriots"

— PBandJ (@ItsaSwellLife) July 2, 2014
[image via screengrab]
— —
Follow Josh Feldman on Twitter: @feldmaniac
Have a tip we should know? tips@mediaite.com
Josh Feldman - Senior Editor