Rachael Ray Launches 'Buddy' Project With eHow.com. Just Don't Call Her The Next Oprah.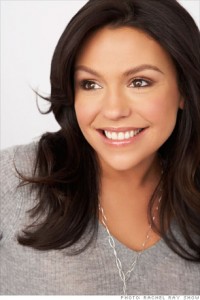 When you think of Rachael Ray, you likely picture her on one of her various food-related shows on the Food Network. Or, maybe, you think about her magazine. Or her talk show. Or her line of dog food and treats. Basically: Rachael Ray is everywhere. And, now, she's expanding her media brand to include an additional digital presence, teaming up with eHow to present visitors with in-depth advice, recipes, and project ideas straight from her circle of "buddies."
"A lot of these people I've known for a very long time," she explained. "They have valuable information and believe in value in time, value for a dollar. They know you don't have to be rich to have a rich quality of life." And not only are these buddies experts in their own fields, they're also people who have helped Ray personally. "Joe and I met over our love of hamburgers," she shared, referring to Joe Campanale, owner of New York City's dell'anima restaurant. She also shared how another buddy, resident "localvore" Louisa Shafia, is married to one of her husband's bandmates. And therein lies Ray's gift, and one of the secrets to her continued success: She has a knack for making the professional personal, so that an interview about a online venture ends up turning into a recommendation for a rosé that best compliments Thai food. In fact, regular viewers of Ray's shows are likely not only acquainted with Ray and her own unique cooking vocabulary (EVOO, stewps, garbage bowls…), but also with her husband, John Cusimano, and their dog, Isaboo.
Besides food, the eHow project will also feature information on wine (with, again, a focus on value for the dollar), cocktails, entertaining at home and DIY projects. "It's about what I can do to broaden the brand beyond my own skill set," Ray explained. "The goal is to drive more traffic into every other arena – merchandise, the Food Network shows, the magazine – and expand the brand's global footprint." Having a digital presence will also allow Ray and her team of experts to "test drive" content, benefiting from the instant feedback blogs provide and essentially rendering eHow a proving ground for content and ideas.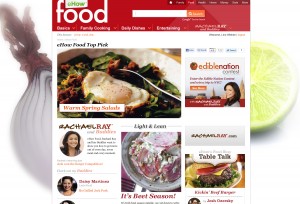 As she continues, one thing becomes strikingly apparent: Ray knows what she's talking about. In addition to, and possibly even more than, being a "food person," Ray is completely and solidly a "media person." She's intimately involved in her brand, every step of the way. In fact, her drive, and her ability to connect to her viewers across TV and print, reminded us of another media personality. (One guess!)
So, now that Oprah has stepped down from her talk show, we wondered, has a vaguely Rachael Ray-shaped opening been created, at least where daytime television is concerned?
"As far as Oprah, no one's ever even going to come close," she replied. "Daytime TV is wide open, and I'm excited to see what others do with that time and real estate." But, she stressed, it's vital for those entering the daytime scene – like her Food Network colleague Mario Batali is set to do – to "get a handle on digital." It's not enough anymore for a media personality to simply to show up, sit in a makeup chair, and, say, swap lasagna recipes with Dermot Mulroney for roughly an hour. The future of daytime television, as Ray sees it, lies in creating digital tie-ins. And that's Ray's plan. Every aspect of her media empire (and empire it indeed is) will feature an off-ramp to the web in an effort to draw her audience into her different projects and offerings. "You have to think outside the box," she stressed. For Ray, that means drawing on her own celebrity and relationship to her viewership, using her online platform to show people what goes on in her own life behind-the-scenes, focusing on her interest in music, showing fans how she entertain in her own home, taking viewers with her as she shops and hangs out in different cities.
Circling back to Ray's profound interest in media, she tells us that she's not only excited to see what Batali does with his daytime show, but she's particularly keen on seeing what the future holds for Katie Couric. "I'm excited to see what works, there's so much real estate out there." Ray is paying attention.
We asked Greg Boudewijn, eHow's general manager, how hands-on Ray and her team were when it came to getting the project off the ground. "Very." Boudewijn told us that Ray understands the value in listening to what viewers wanted when it comes to helping eHow develop a relationship with people who want to have a meaningful relationship with food. His company, then, is uniquely positioned to provide these viewers with experts in a variety of fields, introduced through a personality they know and trust.
We're keen on seeing how Ray's brand grows and adapts online, and what the move towards digital might mean for others in media. But, first, some Thai food and rosé are in order.
Have a tip we should know? tips@mediaite.com