Rahm Emanuel Aides Reportedly Coordinated with CNN Producers to Make Him 'Look Good' in Chicagoland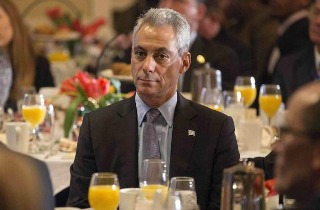 "So where is a consumer going to get the truth?" Chicagoland executive producer Robert Redford asked during a CNN interview ahead of the release of that heavily promoted documentary series. "I lean toward documentaries because the documentarian will take an hour to tell his or her story."
Sometimes the truth needs a little bit of help. According to emails obtained by the Chicago Tribune, Chicagoland's producers coordinated with Mayor Rahm Emanuel in order to shape how certain events unfolded and to make the mayor "look good."
"If it seemed as though some scenes of CNN's documentary series Chicagoland were coordinated by Mayor Rahm Emanuel's City Hall and the show's producers, that's because they were," the Tribune reported on Friday.
"More than 700 emails reviewed by the Tribune reveal that the production team worked hand in hand with the mayor's advisers to develop storylines, arrange specific camera shots and review news releases officially announcing the show," the report continued:
Producers asked the mayor's office to help them set up key interactions in what the cable network has billed as a nonscripted eight-part series, including Emanuel's visits with the school principal who emerged as a star of the show, emails show."
Among the emails obtained by the Tribune were a series of communications coordinating an appearance by the mayor at a local elementary school. In that exchange, one producer promised that the scene would reflect well on Emanuel:
"Still need more Rahm," [Chicagoland executive producer Mark] Benjamin wrote to Hamilton, Emanuel's communications director. "Need the mayor at Fenger High School with Liz also. I know I am needy but we want more Rahm in the series. I know I sound like a (broken) record, but in the Feb. '14 broadcast, Rahm will look good making 'his' points."
UPDATE: Mediaite reached out to CNN for a comment to the allegations above. They responded on Friday with this statement:
The mayor's office was never granted editorial control over the content or the press communications for Chicagoland, and no agency was ever granted authority to offer the mayor's office editorial approval for the content or the promotional materials for the series.
[h/t Political Wire]
[Joshua Roberts / Reuters]
— —
>> Follow Noah Rothman (@NoahCRothman) on Twitter
Have a tip we should know? tips@mediaite.com