Ralph Nader Criticizes Liberal Identity Politics: 'More and More Bitter Over Less and Less'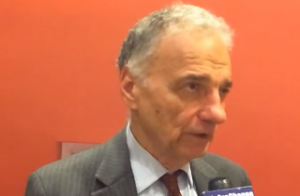 Ralph Nader is running for a seat on Harvard's board of overseers to bring more transparency to the university's admissions process, joining onto a campaign called Free Harvard, Fair Harvard that calls for transparency and the abolishment tuition fees.
In an interview with Politico, Nader responded to complaints that the effort is tied to a desire to crack down on affirmative action, saying, "I'm only signing on for disclosure. In terms of any other stuff, they're on their own."
Still, plenty of people are outraged at Nader for joining the effort, insisting that taking down affirmative action is more significant a goal of the group than Nader is saying.
There's been some criticism of some of the writers funded by libertarian Ron Unz, the man leading the efforts at Harvard, including one "quasi-white nationalist group," but he said in his defense that he doesn't agree with everyone he supports, he just likes funding "alternative" thinkers.
In defending Unz, Nader said, "Ron is a very nuanced guy. He should not be stereotyped as a lot of the world of identity politics does."
And at one point during the interview, he got a little more specific with his frustrations with liberal identity politics:
"I think this whole identity politics ought to be used to fight corporate power," he said. "This identity politics is an implosion phenomenon. It gets more and more bitter over less and less … At one time there were very serious situations where students were getting beat up in the South and getting excluded per se from Harvard. Those were really serious discriminatory practices."
[image via screengrab]
— —
Follow Josh Feldman on Twitter: @feldmaniac
Have a tip we should know? tips@mediaite.com
Josh Feldman - Senior Editor