Rand Paul Calls For Truce With Christie: 'Ratchet It Down,' 'Party Does Better If We Have Less Infighting'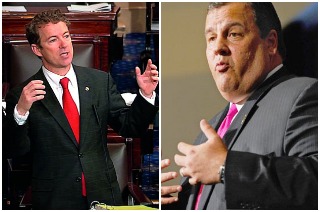 After a week of tempestuous back and forth between Kentucky Senator Rand Paul and New Jersey Governor Chris Christie, Paul appeared on "New Hampshire Today" Wednesday morning to propose a tenuous truce.
"I didn't pick this recent fight with the governor down in New Jersey," Paul said. "But I think the party does better if we have less infighting, so I would suggest if he wants to ratchet it down, I'm more than happy to."
This isn't to say Paul is done contrasting himself with what he views as more establishment Republican figures.
"I've been trying to help the national party to grow bigger, bring new people into it," Paul said. "I'm the kind of candidate, if I were to be a national candidate, who says, 'Young people, Republicans, we will protect your privacy, we do care about the internet, we do want to promote a strong national defense but a less aggressive foreign policy. I think if you see that, I think that will grow our party."
Paul and Christie represent feuding camps of the Republican parties, as well as potential frontrunners for the 2016 GOP nomination. The two have had a simmering rivalry since a disagreement over post-Hurricane Sandy relief funding, but tensions boiled over this week when Christie attacked Paul's brand of libertarianism as "dangerous," and Paul called Christie the "king of bacon" for his alleged use of federal funds, causing Christie to point out that New Jersey was a donor state, while Kentucky took money from the federal government.
Listen to the exchange here, via WGIR-AM New Hampshire:
[h/t RCP]
—
>> Follow Evan McMurry (@evanmcmurry) on Twitter
Have a tip we should know? tips@mediaite.com