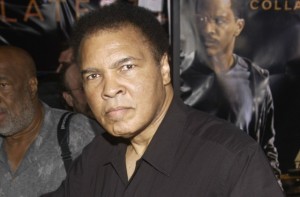 Senator Rand Paul is pushing for legislation that would eliminate the draft entirely. All men are required to register for the Selective Service (there's been talk of including women too) at 18, should the United States need to bring back the draft for any reason.
Paul wants to eliminate the Selective Service entirely, and he is naming the legislation after Muhammad Ali.
The heavyweight champion previously known as Cassius Clay famously refused to serve in Vietnam, saying that war is against his personal beliefs and he "ain't got no quarrel with the Viet Cong."
In his anti-Vietnam speech, "Why should they ask me to put on a uniform and go 10,000 miles from home and drop bombs and bullets on brown people in Vietnam, while so-called Negro people in Louisville are treated like dogs and denied simple human rights?"
And so, Paul considers this legislation to end the draft an ideal way to honor Ali's legacy. He told reporters this week he admired how Ali stood on principle for what he believed in.
He made this argument against the Selective Service:
"The criminal justice system I say now has a racial justice disparity, selective service had a racial disparity, because a lot of rich white kids either got a deferment or went to college or got out of the draft. I'm opposed to Selective Service."
Paul will soon introduce the Muhammad Ali Voluntary Service Act in Congress.
[h/t Washington Post]
[image via screengrab]
— —
Follow Josh Feldman on Twitter: @feldmaniac
Have a tip we should know? tips@mediaite.com
Josh Feldman - Senior Editor