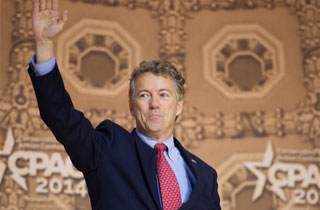 Rand Paul has adamantly stated that if he ever becomes president, he'll issue executive orders "only to undo executive orders."
"There's thousands of them that can be undone," said Paul at a Louisville, Ky. luncheon with the city's Chamber of Commerce, according to WFPL. "And I would use executive orders to undo executives orders that have encroached on our jurisprudence, our ability to defend ourselves, the right to a trial, all of those I would undo through executive order."
Minutes later, with a group of reporters, Paul appeared to walk his statement back juuuuust a little:
"My inclination would be that there have too many executive orders and that really you shouldn't legislate through executive orders."

"I never want to make a blanket statement without looking at everything. My general inclination is you should have less executive orders, but that the executive orders could be used to undo a lot of executive orders that have overstepped their bounds."
While a common talking point regarding the Obama administration is that he abuses the executive order privilege — a.k.a. the shiny toy that lets presidents circumvent Congress in making policy — Barack Obama has only signed 183 executive orders, which is low compared to his predecessors: George W. Bush signed 291, Bill Clinton signed 364, and Ronald Reagan signed 381. The all-time winner: FDR, with 3,522 executive orders.
(Then again, Lincoln, who was commonly accused of over-extending the president's powers, only signed 48 executive orders, so, yeah.)
[WPFL]
[Image via Christopher Halloran / Shutterstock.com]
—
>> Follow Tina Nguyen (@Tina_Nguyen) on Twitter
Have a tip we should know? tips@mediaite.com