Ravens Coach John Harbaugh: It's 'Stupid' to Think Kaepernick is Being 'Blackballed' from NFL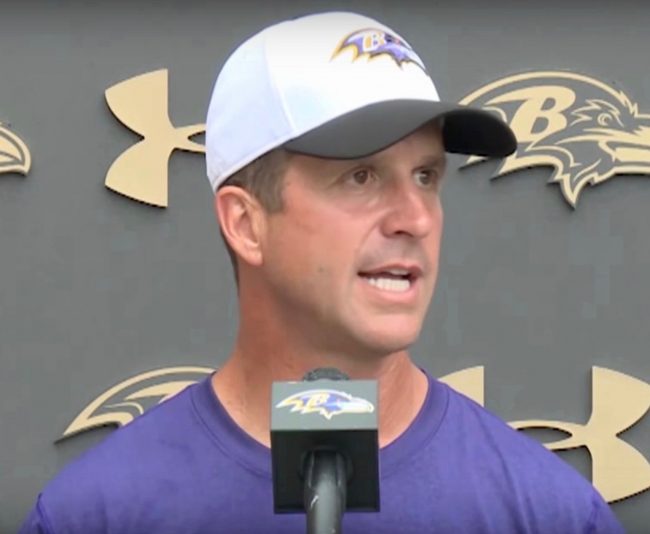 It's Day 21 of the NFL's free agent signing period. And as many statistically inferior quarterbacks have inked new deals, former San Francisco 49ers signal caller Colin Kaepernick remains on the market.
A story by Bleacher Report quoted an unnamed general manager as saying 70% of NFL team executives "genuinely hate" Kaepernick and would not sign him. Some prominent players, such as Richard Sherman of the Seattle Seahawks, believe Kaepernick is being "blackballed" from the league as a result of his National Anthem protest during the 2016 season.
But now, one Super Bowl-winning head coach is going on-the-record to dismiss such talk as "stupid" and "intellectually lazy."
John Harbaugh — whose Baltimore Ravens defeated Kaepernick's 49ers in Super Bowl XLVII in 2013 — believes that Kaepernick is far too talented not to get another job in the league, likely as a starter.
"I would never use just a generic, stupid term like [blackballed] to describe a more complicated type of situation," Harbaugh said, according to the Washington Times. "I just think it's too easy. It's intellectually lazy. To me, I think that it's more nuanced. And I do think that people are, yeah, I absolutely think he's going to get signed. I think he'll probably be starting somewhere."
"He's too good a player," Harbaugh added.
The quarterback situation for Harbaugh's Ravens is settled, with Super Bowl-winning veteran Joe Flacco slated to be under center once again in 2017. But Harbaugh said that one's political beliefs or actions would not change their standing on the Ravens' depth chart.
"We've been very clear over the years, guys speak their mind in Baltimore," Harbaugh said. "It's not going to impact how somebody plays…We can certainly disagree with anything, a political opinion, or how a guy wears his socks or whatever. It's not going to impact how I perform but we're allowed to have that conversation, and that's what America is."
[image via screengrab]
——
Follow Joe DePaolo (@joe_depaolo) on Twitter
Have a tip we should know? tips@mediaite.com
Joe DePaolo - Senior Editor