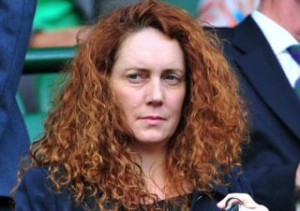 Rebekah Brooks, the embattled former editor of the now shuttered British tabloid News of the World has resigned her post, less than one week after her newspaper shut down over a phone hacking scandal that seems to grow bigger every day. Brooks had stayed on with News Corp. as the chief executive of Rupert Murdoch's British newspaper operations. While it appears that her particular job might be over, her role in this investigation is not.
Just yesterday, News Corp. faced further inquiries and calls for corporate-wide investigations in both Great Britain and the United States, while Murdoch and his son James reversed and earlier decision to not testify before a British Parliament's committee looking into the matter.
While Brooks may be done with her post, her legacy (and apparent ill will with her former staff) appear to linger on. Writing for the NY Times, Sarah Lyall and Alan Cowell report:
But former staffers at The News of the World questioned why she had not resigned earlier. "Our paper was sacrificed to save her career, and now she's gone as well," one former staffer said, requesting anonymity because he did not wish to jeopardize his position in severance negotiations following the newspaper's closure. "Who knows why they've chosen to do it now as she'll have to appear before the select committee anyway."

Ms. Brooks is to join Mr. Murdoch and his son James to testify on Tuesday before Parliament's select committee on culture, media and sport, which is the main parliamentary panel investigating the phone hacking. Prime Minister Cameron has called a separate inquiry to be headed by a senior judge.
With next week's investigation looming, it doesn't seem like we've seen the last of the shocking red hair of Rebekah Brooks in this story.
Have a tip we should know? tips@mediaite.com