Red Sox Fans Vomit N-Word at Orioles' Adam Jones; Team, Boston Mayor Apologize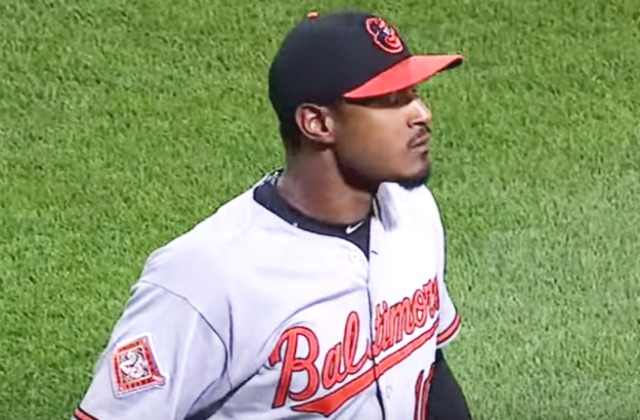 Boston Red Sox fans taunted Adam Jones of the Baltimore Orioles on Monday by shouting the N-word at the center fielder during a game at Fenway Park.
"A disrespectful fan threw a bag of peanuts at me," Jones said. "I got called the N-word a handful of times tonight. Thanks. Pretty awesome."
Jones told USA Today that "it's unfortunate that people need to resort to those type of epithets to degrade another human being."
Two prominent politicians in Massachusetts responded to the incident on Tuesday. Boston Mayor Marty Walsh issued a statement that condemned the insults:
What happened last night at Fenway Park is unacceptable and not who we are as a city. (1/2)

— Mayor Marty Walsh (@marty_walsh) May 2, 2017
These words and actions have no place in Fenway, Boston or anywhere. We are better than this. (2/2)

— Mayor Marty Walsh (@marty_walsh) May 2, 2017
The Republican governor of Massachusetts, Charlie Baker, gave similar comments in a post on his official Twitter account on Tuesday:
Fenway fans behavior at the #RedSox game last night was unacceptable & shameful. This is not what Massachusetts & Boston are about.

— Charlie Baker (@MassGovernor) May 2, 2017
The Boston Red Sox management also issued an apology to Jones on Tuesday:
The #Redsox issue statement in aftermath of Adam Jones incident last night at Fenway Park pic.twitter.com/iMnnlQP9XO

— Bob Nightengale (@BNightengale) May 2, 2017
Even Baseball Commissioner Rob Manfred weighed in:
Statement from Commissioner Rob Manfred. pic.twitter.com/lCUNbv9eyc

— MLB (@MLB) May 2, 2017
USA Today's report notes that the person who threw the peanuts at Jones was apprehended and ejected from Fenway.
Jones also made the following comments about punishing people who do such things:
"What they need to do is that instead of kicking them out of the stadium," Jones said, "they need to fine them 10 grand, 20 grand, 30 grand. Something that really hurts somebody. Make them pay in full. And if they don't, take it out of their check… You suspend them from the stadium, what does that mean? It's a slap on the wrist. That guy needs to be confronted, and he needs to pay for what he's done."
Back in September 2016, Jones created a controversy of his own after he labeled baseball a "white man's sport."
[image via screengrab]
Have a tip we should know? tips@mediaite.com