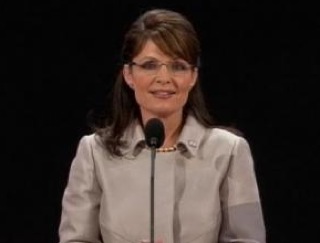 Today is the first day of October, which for many fans of Sarah Palin means her presidential campaign carriage is set to turn back into a pumpkin. Palin had long promised to make a definitive decision on whether to toss her hat into the ring by the "end of September," but as of her last pre-October appearance on TV, Palin has been mum. Her silence led RedState's Erick Erickson to host an overnight vigil on his blog last night, and as October came around, shrug Palin's candidacy away as a "bad joke."
RELATED: Sarah Palin Fires Up Crowd At Tea Party Rally
Conservative blog hub Red State began counting down to October sometime around 5 AM yesterday Eastern time, being careful to account for the time difference between the East Coast and Alaska. The updates happened about once an hour, noting the silence from the Palin camp. It went on until 4 AM Eastern time this morning (officially October in Alaska), at which Erickson wrote this post:
It is now October even in Alaska and Sarah Palin has not announced by her own deadline.

I guess she could still do it this month. But if she can't even keep to her own deadline and hasn't really had a job for two years and could have made up her mind, why keep stringing us along.

This hasn't just become a joke, but a bad joke.
Given the extraordinary amount of speculation surrounding Palin's run– which, unlike that surrounding Gov. Chris Christie, has been partly fueled by her claims that the end of September as a "drop dead" date to announce, and that she had been considering it– that "drop dead" date is far more significant than that of potential candidates that have given no concrete yes or no. Palin fans who otherwise agree with Erickson on the issues will likely not be too happy with the characterization of their maybe-candidate as a joke, but it is a clear sign that the more she waits, the more difficult it becomes for her to keep the positive attention of her fellow conservatives.
RELATED: Sarah Palin: For The Media, GOP Primary Is A Reality Show– One She Can Win
Have a tip we should know? tips@mediaite.com