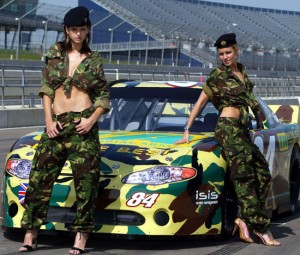 Rep. Betty McCollum, a Democrat from Minnesota, opened up a writhing can of worms when she proposed cutting Pentagon funding for NASCAR teams in an effort to save taxpayers' money. Several lawmakers from areas where NASCAR enjoys extraordinary popularity, however, argue that the money goes to great use, helping save many jobs at a time when the economy and job market are still lagging, as well as working to bolster military recruitment. The AP reports via The Fayetteville Observer that, currently, the National Guard spends roughly $20 million to sponsor racer Dale Earnhardt Jr., the Army spends $7.4 million to sponsor Ryan Newman, and the U.S. Air Force spends $1.6 million on AJ Allmendinger. The Army also spends an additional $8 million on NASCAR programs specifically meant to attract new recruits.
One of McCollum's arguments from cutting NASCAR funding is that it simply doesn't make sense to give a sporting association taxpayer money at a time when cuts are being made across so many other organizations and services, including health care and aid for military veterans. "On one hand," she said," we're eliminating assistance to men and women who served our country… and on the other hand, we're paying for race cars." She also takes issue with the fact that, last year, racetrack owners received tax breaks to the tune of $45 million.
McCollum's amendment ultimately failed, 281-148.
One of those who opposed the amendment is Republican Rep. Patrick McHenry of North Carolina, whose district in particular is entertained – and financially supported – by several NASCAR teams. McHenry seems to believe that McCollum's efforts to slash funding for the association by doing away with raceway tax breaks and banning driver sponsorships is more about an anti-NASCAR bias (and, quite possibly, bias against NASCAR fans) than anything else. Explains McHenry:
She may believe that none of her constituents watch NASCAR, but they do. This shows that she is on the warpath against NASCAR. This is more about her disdain for NASCAR than it really is about saving taxpayers' money.
McCollum insists that she's "watched" several car races, and that her only aims are to cut spending and save money.
h/t Maddow Blog
Have a tip we should know? tips@mediaite.com