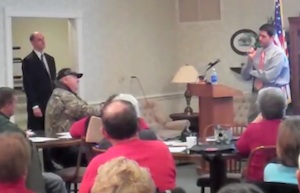 Remember back on August of 2009 when lawmakers to to their constituents to pitch health care reform and were greeted with feisty Town Halls? Of course you do, and the Internet is now littered with thousands of video clips exemplifying American anger. Well now there is another example, though one of a very different stripe, because it features Rep. Paul Ryan (R-WI) getting a remarkably cynical reaction for his defense of the current tax rate on the rich.
Think Progress has a transcript of the exchange:
Ryan argued against "redistribut[ing]" in this manner. After the constituent noted that "there's nothing wrong with taxing the top because it does not trickle down," Ryan argued that "we do tax the top." This response earned a chorus of boos from constituents:

CONSTITUENT: The middle class is disappearing right now. During this time of prosperity, the top 1 percent was taking about 10 percent of the total annual income, but yet today we are fighting to not let the tax breaks for the wealthy expire? And we're fighting to not raise the Social Security cap from $87,000? I think we're wrong.

RYAN: A couple things. I don't disagree with the premise of what you're saying. The question is what's the best way to do this. Is it to redistribute… (Crosstalk)

CONSTITUENT: You have to lower spending. But it's a matter of there's nothing wrong with taxing the top because it does not trickle down.

RYAN: We do tax the top. (Audience boos). Let's remember, most of our jobs come from successful small businesses. Two-thirds of our jobs do. You got to remember, businesses pay taxes individually. So when you raise their tax rates to 44.8 percent, which is what the president is proposing, I would just fundamentally disagree. That is going to hurt job creation.
Watch the clip below:
(H/T Think Progress Via The Blaze)
Have a tip we should know? tips@mediaite.com
Colby Hall - Founding Editor