Rep. Peter King Shocked Intelligence Director Was Unaware Of London Plot Known "For Weeks"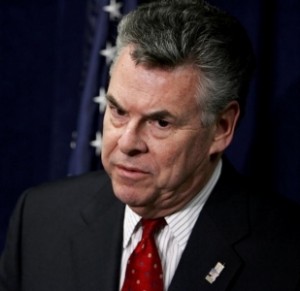 On Fox News Radio's Kilmeade & Friends, host Brian Kilmeade and guest Congressman Peter King discussed Director of Intelligence Gen. James Clapper's embarrassing ordeal of being unaware of the London arrests of 12 people as part of a potential holiday terror plot. Kilmeade was stunned when King revealed "we've been aware of London for weeks" and that "we knew that there was a plot in London and we knew that it was being monitored."
If it's true that London has been the center of recent suspected plots, as King alleged, then Clapper's being stumped in the interview by ABC's Diane Sawyer when she brought up the city is all the more baffling, and even worrisome. No one can know everything at all times, but if Clapper is not up-to-speed on the central location of terrorist activity in Europe, then where exactly is he focusing his attention?
King elaborated on his concerns over the lack of intelligence demonstrated by Clapper:
I was really surprised that he said that. I could see somehow, maybe if he was caught off guard by . . . even though with the arrests I don't see how they wouldn't have come to him right away, because this isn't just twelve guys who happened to be picked up, that can happen. This was, you know there are major plots against Europe right now, and for twelve people to be arrested in London is a big deal, so it's not like twelve guys going through stop signs.
Listen to the audio clip from Fox News Radio below:
Have a tip we should know? tips@mediaite.com