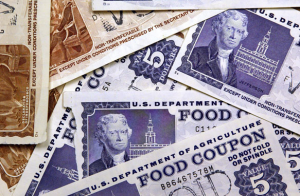 If you were looking for a feel-good story to share on Thanksgiving… this isn't it. A new report from The Sunlight Foundation finds that since 2007, average participation in the government food stamp program has increased 70 percent since 2007. The report also mentions that food stamps are a "juicy target" for lobbies pushing back against automatic across-the-board budget cuts.
RELATED: Cory Booker, And One Of His Twitter Followers, Plan To Live Off Food Stamps For A Week
The Sunlight Foundation's report looks at how much U.S. tax dollars are going towards our Thanksgiving feasts, highlighting the fact that Congress did not pass a new farm bill before the old one expired on October 1. Currently Congress is delaying a new farm bill until it takes care of this little fiscal cliff thing, with one farm policy expert predicting Congress would not get a new one passed until next April.
Among the issues the foundation's report looks at is the money behind the food on our Thanksgiving tables, from the turkey to the stuffing to the cranberry sauce. But it's their small note about food stamps that is garnering some attention. The report cites statistics taken directly from the USDA's website, showing that in 2007, roughly 26 million Americans were on food stamps, and this year almost 45 million are in the program. That's an increase of roughly 70 percent.
If you want a broader picture of how much the food stamp program has grown, take note of the fact that less than three thousand Americans were in it in 1969. The Sunlight Foundation points out how both the Senate and the House have proposed bills to cut the program (with only the Senate version passed so far), but the dispute between the Democratic-controlled Senate and Republican-controlled House is over how much the program should be cut by over the next ten years.
h/t U.S. News
[Image via]
Have a tip we should know? tips@mediaite.com
Josh Feldman - Senior Editor