George W. Bush Reportedly Charged $100K to Speak at Homeless Shelter Fundraiser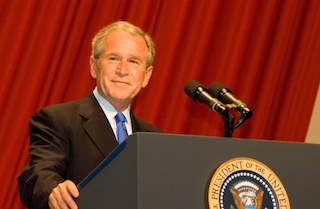 With the mega-speeches of Bill and Hillary Clinton riling up so many headlines, Politico's Michael Kruse decided to investigate how Clinton's successor was doing on what Gerald Ford called the "mashed potato circuit." The answer: pretty damn well, though exact figures proved suspiciously difficult to track down.
By 2011 President George W Bush "had given some 140 talks, for at least $15 million," Kruse wrote, noting the trail of information dried up after that. Kruse found that Bush's customary speaking fee fluctuated between $100,000 and $175,000, and may have gone higher.
At one point, Bush charged $100,000 to speak at a fundraiser for a McKinney homeless shelter:
"We paid his regular fee," Lynne Sipiora told POLITICO. She's the executive director of the Samaritan Inn, a homeless shelter in McKinney, Texas. "Which is $100,000."

…Sipiora, the executive director of the Samaritan Inn, called Bush's fee of $100,000 a "bargain."

"We looked at many entertainers and political figures, and they were much higher," she said. "Hillary Clinton was, like, $250,000.

"We're a homeless shelter, so it was a hefty fee for us, but we ended up netting over $1 million," said Sipiora, who identified herself as one of the few Democrats in her area. "It was not a very political conversation. I'm sure he's answered the same questions a million times. But he was very popular and charming and pleasant." She said Bush sent her a prompt thank you note in which he mentioned her father by name.
Kruse added that Bush's speeches were mostly stateside, in contrast to the Clintons' globetrotting, and largely avoided the conflicts of interest currently plaguing Clinton's campaign.
[h/t Politico]
[Image via Joseph August / Shutterstock.com]
——
>> Follow Evan McMurry (@evanmcmurry) on Twitter
Have a tip we should know? tips@mediaite.com