Report: John Boehner Refused Air Force Ride To Tucson, Hosts RNC Party Instead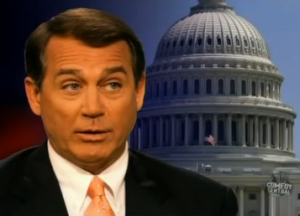 Politico reports that newly elected Speaker of the House John Boehner declined an invitation to join President Obama on Air Force One to attend last night's memorial in Tucson, Arizona. Instead, Boehner was reportedly hosting a reception for RNC chair candidate Maria Cino while other Washington dignitaries paid their respect for the heroes and victims from the Arizona Shooting Tragedy of the last weekend.
Writing for Politico, John Bresnahan reported yesterday:
Speaker John Boehner (R-Ohio) turned down an offer by President Barack Obama to travel on Air Force One to Arizona for a memorial service on behalf of the victims of Saturday's shooting, a decision that has upset some Democrats.

Boehner is instead scheduled to attend a reception on Wednesday night on behalf of Maria Cino, a former top House GOP aide who is seeking the Republican National Committee chairmanship. Boehner is backing Cino's challenge to current RNC Chairman Michael Steele.

Boehner's reception for Cino was first reported on Wednesday morning by POLITICO.

Senior Democrats – who to date had been impressed with Boehner's response to the Arizona tragedy – expressed surprise at what they saw as an unmistakable misstep by the new speaker: appearing at a partisan political event on the same night as the the president, first lady Michelle Obama, Minority Leader Nancy Pelosi (D-Calif.) and the Arizona congressional delegation come together at the memorial service for the victims of an attack that nearly took the life of a member of the House. Rep. Gabrielle Giffords (D-Ariz.) was critically wounded in Saturday's attack, while six other people died and a dozen more were wounded.
In the days that followed the Arizona shooting, Rep. Boehner's rhetorical respons had been lauded by many, and was clearly emotional when he gave remarks on the House floor yesterday morning. "Our hearts are broken but our spirit is not," Boehner said, adding "this is a time for the House to lock arms, in prayer for those fallen and wounded, and in resolve to carry on the dialogue of democracy."
Have a tip we should know? tips@mediaite.com
Colby Hall - Founding Editor