Report: Obama Admin Blocked Scientists From Warning Public About BP Oil Spill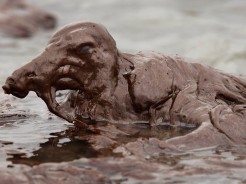 The investigation President Obama called for back in May into how the government handled the oil spill is not making President Obama and his administration look very good. The report, released yesterday by the national commission investigating the BP spill revealed that the White House had blocked "government scientists from warning the American public of the potential environmental disaster caused by BP's broken well in the Gulf of Mexico" and kept the "American people in the dark for weeks about the size of the disaster." You know it's bad when even the NYT puts "slam" in its hed.
The reports also say that about two weeks after the BP rig exploded, the National Oceanic and Atmospheric Administration asked the White House for permission to make public its worst-case models for the accident. The White House Office of Management and Budget initially denied the request…The government stuck to its public flow rate estimate of 5,000 barrels a day for more than a month, even though BP officials and government scientists acknowledged that the rate could be as high as 110,000 barrels a day.
Also? The government was apparently incompetent:
The government repeatedly underestimated how much oil was flowing into the Gulf of Mexico and how much was left after the well was capped in July, leading to a loss of faith in the government's ability to handle the spill and a continuing breach between the federal authorities and state and local officials, the commission staff members found in a series of four reports issued Wednesday.

"By initially underestimating the amount of oil flow and then, at the end of the summer, appearing to underestimate the amount of oil remaining in the gulf," one of the reports stated, "the federal government created the impression that it was either not fully competent to handle the spill or not fully candid with the American people about the scope of the problem."
In the briefing today Roberts Gibbs (via Michael Scherer's Twitter) asserted that there had "never been an effort to not put out the most accurate and timely info" and "there is nothing that we knew about flow rates from here that we didn't make public." Clears things right up, no? And this is just the preliminary report, notes the Times: [The Commission] has not yet completed its work on the causes of the well explosion or the efforts to contain the oil, but the tenor of Wednesday's reports indicates that the White House, cabinet officers, Coast Guard commanders and senior government scientists will shoulder a fair amount of blame for the response to the accident."
Have a tip we should know? [email protected]