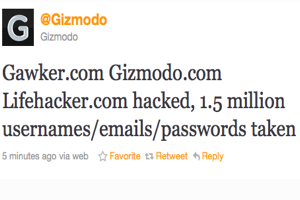 After months of taunting over various extensive 4chan campaigns, someone purporting to be a member of internet "hacktivist" collective Anonymous now appears to be claiming it has hacked into Gawker Media and stolen 1.5 million usernames, emails, and passwords. Except their goal this time was not to silence Gawker's insolence at their online behavior, but all for a good cause: to support Wikileaks. And, if the reports are true, they have done absolutely nothing to prove it. Update – Gawker Editorial Director Scott Kidder says via Twitter "No evidence to suggest any Gawker user accounts were compromised, and passwords encrypted anyway."
The hacking reports surfaced after a series of bizarre, suspicious tweets beginning at 3:30 today over the Gizmodo account. They explain that the emails and usernames were hacked and call to "support Wikileaks." One last tweet may indicate why they chose Gawker: "I remember when Gawker.com told Anon that they were invincible and couldn't be hacked. Well, you were wrong :)". Joe Coscarelli at the Village Voice has screencaps of all the tweets, which have since been deleted. They are the only evidence that said emails, usernames, and passwords were taken as, in the event that someone did hack into the system, and didn't just guess the Gizmodo Twitter account's password, no one has exercised any liberties with them to indicate they are in no good hands.
If Anonymous did gain access to at least one nugget of the Gawker empire– or is even trying to– the operation would normally not seem so completely out of place, given the latter's repeated mockery of their home turf, 4chan– and it wouldn't even be the first time. But to attack Gawker in the name of Wikileaks, an organization which, despite their constant (and, let's face it, kind of understandable) mockery of Julian Assange for being, among other things, a "sexual demigod," a "nerdy sex god," and a (probably sexy, god-y) "megalomaniac," Gawker is not exactly what Wikileaks should consider a substantial enemy– nor have they behaved with the kind of animosity against Assange or Wikileaks that would make hacking into their system a strong statement in favor of their cause. We have reached out to Gawker for comment, but have yet to receive a response, and will update accordingly.
[Screencap via]
Have a tip we should know? tips@mediaite.com