Report: Romney Aids Republican Anti-Trump Movement Trying to Mount Third-Party Challenge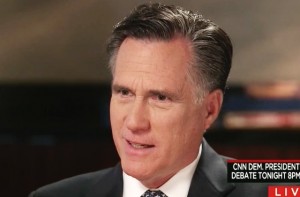 Anti-Trump Republicans are cobbling together an effort to mount a third-party challenge to the presumptive frontrunner, and 2012 nominee Mitt Romney is involved in the effort, according to a report in the Washington Post.
The Post writes:
These GOP figures are commissioning private polling, lining up major funding sources and courting potential contenders, according to interviews with more than a dozen Republicans involved in the discussions. The effort has been sporadic all spring but has intensified significantly in the 10 days since Trump effectively locked up the Republican nomination.
In addition to Romney, Weekly Standard editor Bill Kristol and Red State's former editor Erick Erickson are involved in the effort, which has sought to recruit Ohio Gov. John Kasich and Sen. Ben Sasse from Nebraska.
In an appearance on CNN Thursday night, Kristol told Don Lemon, "I think there will be an independent candidate, I think a Republican of integrity and honor who people like me will feel comfortable voting for." He added that that person "could beat both Donald Trump and Hillary Clinton," though he conceded that it was an "outside shot."
"[Kasich and Romney] may choose to sit it out," Kristol had added. That's the easier thing to do. I would admire them if they stepped forward."
According to the Post, so far nobody has taken the anti-Trump flank up on their offer to run as their candidate, not without reason, as one person familiar with the prospect of running a third-party campaign said:
"The career of the individual would come to an end, and he would have a difficult spot in history for being responsible for putting Hillary Clinton in the White House," said Patrick J. Buchanan, a conservative who ran for president unsuccessfully in 2000 on the Reform Party ticket.

Buchanan was dismissive of the current efforts. "These are the mice trying to bell the cat — only they can't get one mouse to go out and do it," he said.
[h/t Washington Post]
Have a tip we should know? tips@mediaite.com