Report: Sarah Palin Is Having A Tough Time Pitching A Reality Series About Todd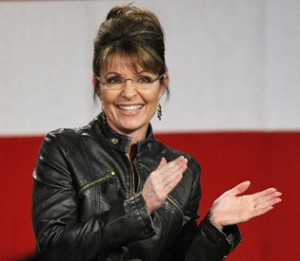 Admit it: You've missed Sarah Palin. Once a seemingly ever-present fixture in politics and pop culture, Palin has all but bowed out of the spotlight in recent months. Ever since she wrapped up her "Just Because It's Fun" whirlwind bus tour, the former governor of Alaska has only popped up on Fox News every so often to offer her take on current news items. But she hasn't been making news, really, and we miss that.
RELATED: Sarah Palin To Hannity: GOP Candidates Have To Quit 'Nit-Picking At One Another'
Fortunately, Palin is currently in the process of pitching a new television series, teaming up once again with producer Mark Burnett after the success of her TLC show Sarah Palin's Alaska. Unfortunately, The Hollywood Reporter is sharing that she and Burnett are having a tough time finding a buyer, as TLC parent company Discovery Communications and A&E Networks have already passed on the reality series. Why? Here's a possible hint: "…this one more focused on Palin's husband Todd and his career as a championship snowmobile racer."
RELATED: Bill O'Reilly To Sarah Palin: "Is That Presidential, You And Kate Gosselin In A Forest?"
Apparently, some "network insiders" feel that the show is having trouble getting picked up because Palin's 15 minutes are up. And while, sure, she may no longer be at the height of her popularity with a media and a public hanging on her every word (…and hairstyle and article of clothing), this really might be more about a desire to "Stop Trying To Make Todd Happen."
What say you, gentle readers? Would you watch a show about Todd Palin's penchant for snowmobiling? Or would you go for my TV pitch: Sarah and Bristol in a (better) remake of Australia's Kath & Kim? Let me know. In the meantime, I have to take this call with Every Producer Ever.
Have a tip we should know? tips@mediaite.com