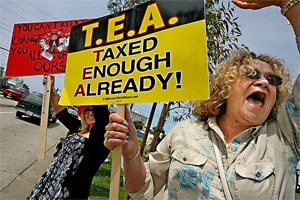 A report in Politico today reveals growing concern among some "leading tea party activists" that a lack of funding (combined with a singular national organized structure) is beginning to hamstring the overall efficacy of the socio-political movement that started last year. The in-depth essay, written by Kenneth P. Vogel posits that the next year is a critical one for Tea Partiers as they transform from a collection of localized grass-roots groups to a larger, more unified voice whose goal is to reshape the political landscape.
Defining the "Tea Party movement" is really, really hard. In fact, its almost akin to describing a dream the moment you wake up. You think you can explain it in a clear and cogent manner to a friend or loved one, but the moment you start describing it is the moment you also realize that you are somehow doing it a disservice in your explanation.
In his piece for Politico, Vogel does his best to lay out the dichotomy between national organizations and local grass-roots groups, and how the former appears to engender some cynicism from the later. Vogel reports:
Some leading tea party activists are concerned that their efforts to reshape American politics, starting with the 2010 elections, are being undermined by a shortage of cash that's partly the result of a deep ambivalence within the movement's grassroots over the very idea of fundraising, and partly attributable to an inability to win over the wealthy donors who fund the conservative establishment.

Many tea party organizations have shied away from the heavy-handed solicitations that flood the email boxes of political activists. And the handful of tea party groups that have raised substantial amounts, either by embracing aggressive fundraising or through pre-existing connections to wealthy donors, are viewed suspiciously within the movement.

Local groups have been left to literally pass hats seeking donations at their meetings or rely on their organizers' bank accounts, while ssome national groups have failed to live up to their bold fundraising predictions.
The truth is that it is almost impossible to define the numerous groups that come under the broader "Tea Party" rubric. And within this movement, there is a rather broad spectrum of beliefs on social, cultural and political issues, though a current accepted belief that, as a country, we need to "throw the bums out."
The next year in the life of the Tea Party movement as many thought leaders involved in the political group will effort transition to a more effective place, by capturing corporate lobbying dollars that will amplify the voice of movement, but will it also sacrifice its soul in doing so?
Read the in-depth essay here.
Have a tip we should know? tips@mediaite.com