Report: Trump Ban 'Not Helping LA's Chances' of Landing 2024 Summer Olympics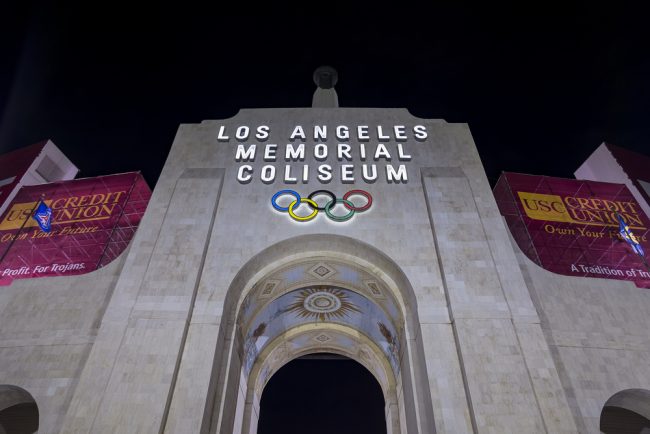 A new report claims that United States Olympic officials are fearful that international backlash over President Donald Trump's executive order banning immigration from seven Muslim-majority countries could cost Los Angeles an opportunity to host the 2024 Summer Olympics.
USA Today's Christine Brennan cites an anonymous source as telling her that "the Trump ban and worldwide reaction to it certainly is not helping LA's chances" of hosting the Games in 2024.
The US has not hosted a Summer Olympics since 1996, when Atlanta staged the Games. LA has previously done the honors, serving as host in 1984.
There has been less competition to host the Olympics in recent years, as other cities and nations have observed the plight of previous Olympic sites. London's 2012 bid underestimated the cost by nearly £9 billion. And Rio is currently mired in a financial crisis after hosting in 2016.
Still, Los Angeles knows what it's getting into, having hosted in 1984. Unlike many of the other cities which have staged the Games, LA has most of the necessary infrastructure already in place. Very little additional construction would be necessary, compared to other cities.
According to the USA Today report, the LA bid's organizers are hoping that Trump will not speak out on behalf of the bid when the International Olympic Committee deliberates. They cite President Barack Obama's trip to Copenhagen in 2009 to support Chicago's 2016 bid as being harmful, as IOC members complained about having to pass through extra security due to Obama's presence.
The 2024 host city will be chosen this September by the IOC. Paris and Budapest are also mounting bids.
[image via Kit Leong Shutterstock.com]
–
Follow Joe DePaolo (@joe_depaolo) on Twitter
Have a tip we should know? tips@mediaite.com
Joe DePaolo - Senior Editor