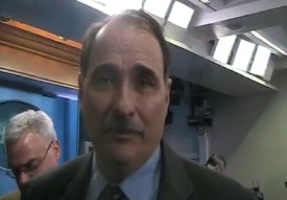 It is a poorly-kept secret that President Obama is a poker aficionado. If the administration's new posture on the soon-to-expire Bush tax cuts are any indication, he's a lousy one. Senior adviser David Axelrod, in an interview with Huffington Post, has signaled that the administration is all but ready to fold the strongest hand they're likely to get in post-midterm Washington. While the President favors extending the middle class portion of the Bush tax cuts, while allowing those for the wealthiest Americans to expire, Axelrod has already resorted to the fallback position of a temporary extension for the rich. While that's probably the best outcome, the timing of this move is bad politics, and will lead to bad policy.

Axelrod identifies one of the key reasons a compromise will probably be necessary:
"We have to deal with the world as we find it," Axelrod said during an unusually candid and reflective 90-minute interview in his office, steps away from the Oval Office. "The world of what it takes to get this done."

"There are concerns," he added, that Congress will continue to kick the can down the road in the future by passing temporary extensions for the wealthy time and time again. "But I don't want to trade away security for the middle class in order to make that point."
He's correct that middle class Americans probably don't want their taxes to go up just to prove a point. Additionally, passing a two-year extension of tax cuts for the wealthy tees up this debate for the 2012 presidential election, when billionaire's rights will be low on voters' list of priorities.
But flipping over these cards now means that Republicans won't have to fight for that extension, or worse, can fight for even greater concessions. If passing an extension is inevitable, why give up the chance to make Republicans explain to the American people why their tax cuts are being held hostage by the interests of the people who have not been hurt by this recession? Make them fight tooth and nail for that extension, and then claim that "above politics" trophy that this administration is so fond of burnishing.
This is the same mistake they made on health care reform, starting where they wanted to end up, and it sets the tone for the next two years. The "professional left" contingent of the White House press corps has been looking for a sign that the administration has learned something from the last two years of trying to work with Republicans whose primary concern is the President's failure. Unfortunately, it appears we have our answer.
Update: The White House is walking back Axelrod's statements, but once you flip your cards over, you can't make your opponent un-see them.
Have a tip we should know? tips@mediaite.com