Reporter Who Went Undercover at Private Prison Releases Damning Follow-Up on Inmate's Death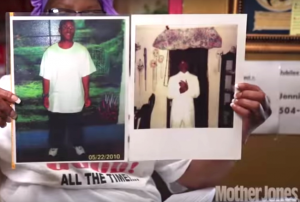 In June, when Mother Jones released the findings of Shane Bauer after he spent four months working at a private prison, it was shocking and got a lot of people talking. It got Mediaite talking, for sure. Now, Bauer is back and this time, he wants to elucidate a prisoner's death because he and the inmate's family believe that the prison should be held responsible.
His latest piece is about Damien Coestly, a man who was in solitary confinement and on suicide watch when Bauer first met him. Ultimately, after Bauer had quit his job at the Corrections Corporation of America's Winn Correctional Center, Coestly killed himself. His mother, Wendy Porter, reached out to Bauer once she found out the reporter had worked within Winn. 
Coestly had gone on suicide watch 17 times in three and a half years. When he died, he weighed 71 pounds. He went on hunger strikes, according to Bauer, to protest his treatment. Here is what those in Coestly's position experience at Winn:
When I was at Winn, inmates on suicide watch were kept in solitary confinement. They weren't allowed to keep much more than a small amount of toilet paper, their suicide smocks, and suicide blankets. They had to sleep on a steel bunk, often without a mattress. They also received worse food than the rest of the prison population: A typical meal consisted of one "mystery meat" sandwich, one peanut butter sandwich, six carrot sticks, six celery sticks, and six apple slices. There were no mental health professionals stationed in the unit—it was just me and another guard watching over four inmates in their cells.
Here is a video interview with Porter:
Bauer details Porter's plan to pursue legal action against CCA here. Give it a read.
[image via screengrab]
Have a tip we should know? tips@mediaite.com