Reporters Blast Federal Agency for Withholding Information About Obamacare Site Backend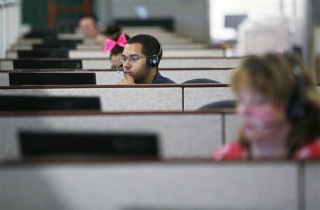 Reporters from a variety of outlets are losing patience with the federal government's lack of forthrightness regarding how much progress there has been in repairing the ailing insurance exchange web portal. Reporters from the Washington Post and the Huffington Post took to Twitter on Monday to blast the Centers for Medicare & Medicaid Services for stonewalling them when they asked about the progress in building and repairing the ACA website's backend.

Reporters from a number of outlets joined a conference call on Monday where they asked a CMS spokesperson to clarify whether they had resolved the issues relating to "834 EDI transmissions." 834's, as Washington Post WonkBlog journalist Sarah Kliff reported in October, are a backend code that "tells the insurer's system who you are and what you need."
If people can't get into the Web site, then they simply have to come back later. But if they believe they've signed up for a plan but their 834 is a garbled mess — or, even worse, clear but wrong — it could mean chaos when they actually go to use their health insurance. For that reason, inside the health-care industry, the 834 problems are the glitch that is causing the most concern.
RELATED: CMS Official: 60 to 70% of Obamacare Architecture Not Yet Built
With the White House touting the broad array of fixes to the website that were completed over the course of the month of November, reporters are now asking for an update on whether the issues relating to 834's have been resolved.
They are not pleased with what they are hearing in response to their inquiry: silence.
"I've asked CMS four times now for the 834 transmission error rate," Kliff wrote on Monday on her Twitter account. "Four times, no answer."

She added that she was among a group of other reporters from media outlets like the Wall Street Journal and the LA Times who submitted queries about 834's but received no reply. "Frustrating," she confessed.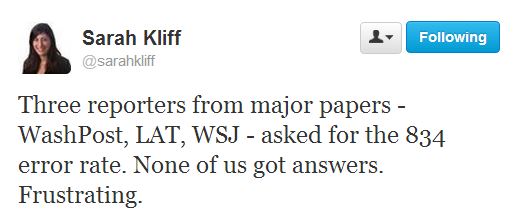 Huffington Post reporter Sam Stein said that he found CMS officials' silence on the critical 834 errors was "telling."
[Photo via Reuters/Brian Snyder]
— —
> >Follow Noah Rothman (@NoahCRothman) on Twitter
Have a tip we should know? tips@mediaite.com