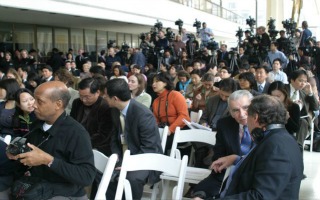 The quadrennial presidential election cycle is not often known for being "fun." In 2008, a high bar was set for what a historic presidential election could look like. For members of the press corps, however, 2012 has not measured up to the experience of 2008. Politico's Dylan Byers captures mirthless the sentiments of reporters covering the election who have expressed their lack of enthusiasm for the next two months of campaigning.

In Byers piece, a list of who's who of prominent political reporters share their frustration with the state of the 2012 race. Some reporters posit how they think the excitement level of the race can be augmented in the short time left in this election cycle.
"This might or might not be the most important election of our lifetime — as we are told it is every four years — but it really did feel like the most joyless," writes the New York Times' Mark Leibovich. "How am I ever going to get through it?"
"This is worse than normal, a lot less fun, and it feels impossible for us to change the conversation," complained veteran campaign correspondent and reporter for Yahoo! News, Walter Shapiro.
"People are feeling grateful that it's almost over," said Politico reporter Maggie Haberman. "There has been this ongoing lack of enthusiasm. Neither side seems to be enjoying this race — not the Democrats or the Republicans, and not the reporters."
NBC News' Chief White House Correspondent Chuck Todd echoed his colleagues' sentiments, saying "Until the candidates restore joy, it's impossible for us to be joyful."
Leibovich said he was frustrated by his feeling that reporter are complicit in the "gotcha" politics of the moment, fueled by social media networks like Twitter which inflate passing gaffes and misstatements beyond their appropriate proportion.
"We're all part of the same stew, and you can see the glee in the press corps when they know they've found today's 'Gotcha,' moment," Leibovich said. "The arms race should and has to end at some point."
In the end, Politico's editor John Harris says that reporters want to find meaning in their work and advises them to have fun in spite of themselves. "And we shouldn't be beating ourselves up, knocking the hell out of ourselves. We should have some fun," says Harris.
Read the full article via Politico
> >Follow Noah Rothman (@Noah_C_Rothman) on Twitter
Have a tip we should know? tips@mediaite.com