Reporters Rebel Against Clinton Campaign's Pointless 'Background' Information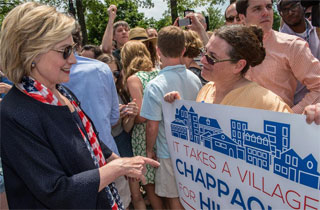 Getting information "on background" generally indicates that a source will give a reporter privileged information, which the reporter cannot necessarily print from that source alone, but can use to verify and enhance their reporting. With that setup: an "on background" email circulated by Hillary Clinton's campaign got called out by a veteran journalist when he realized that he'd received the most pointless "on background" information ever.
Adam Nagourney, the L.A. bureau chief of the New York Times, was among a group of reporters who received an email from the Clinton campaign announcing a June 13th event, presumably because he was still on their "blast list" from his former time as a political reporter. The sender, Clinton spokesman Jesse Ferguson, said that the content of the emails should be attributed to a "Clinton campaign official", and, according to the Washington Post's Erik Wemple, contained the following:
Hillary Clinton grew up in Illinois, and her career spent working on behalf of children and families has taken her from Massachusetts to Washington, D.C., Arkansas to New York. But it was the voters of New York who elected her to serve as their first female senator.
As Nagourney noted to Wemple, this was "anodyne" information that anyone with a computer could find, and certainly not the kind of stuff that would require a reporter to grant anonymity to a source, especially a source who clearly risked his career to divulge Hillary Clinton's home state to a nosy reporter. "It's like give me a break," he complained. (Imagine the rigorous fact-checking process to verify that Clinton grew up in Illinois!)
More offensive to him, though, was the idea that PR people could dictate the terms of anonymity to a reporter:
Per Clinton campaign memo: background is negotiated btwn campaign & reporter. And that Jesse stuff doesn't rise to level of needing bckgrnd

— adam nagourney (@adamnagourney) June 1, 2015
It should be noted that Nagourney is not on the Clinton beat for this election, and thus had little to lose by calling out Ferguson by name — a problem for the other reporters covering Clinton, who met today and aired grievances about their frustrating inability to actually cover Clinton, with the hope that they could present a unified front and demand that the campaign become more accessible to journalists. One point stood out in particular: they were often forced to attribute relatively harmless or mundane information on background, which, as Ron Fournier points out at National Journal, is ridiculous.
[Image via Hillary Clinton/Twitter]
—
>> Follow Tina Nguyen (@Tina_Nguyen) on Twitter
Have a tip we should know? tips@mediaite.com