Republicans Claim Trump Calls Them Minutes After TV Appearances: 'He Said Melania' Called Me 'Handsome'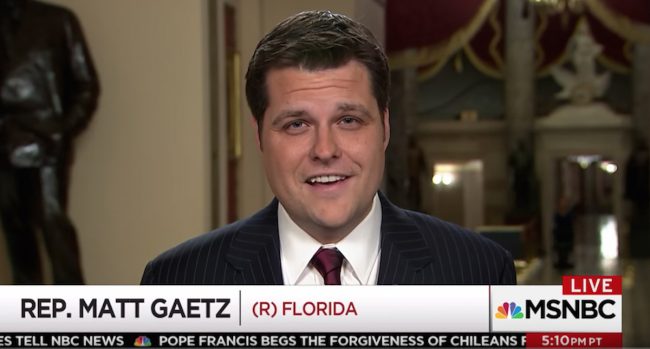 Multiple Republicans have now stated that President Donald Trump calls them mere minutes after they appear on television — adding fuel to the notion that the president watches much more cable news than anyone in the White House cares to admit.
According to multiple sources reporting to Business Insider, it is common to receive a quick call from the president after they appear on TV, usually with notes on their talking points and comments on their appearance.
Rep. Matt Gaetz (R-FL) says he received a call from the president after his very first appearance on television.
"He did make mention of the fact that he thought I had found a calling in television, which is high praise from someone who found a calling in television," Gaetz said.
Gaetz also claimed that Trump told him First Lady Melania Trump made a comment about his good looks.
"One of the last times I spoke with the president, he said Melania had seen me on Fox & Friends and she told him there was this really handsome guy on television talking about him," he told Business Insider. 
The claim that Trump calls Republicans after appearances on TV was echoed by another lawmaker, who requested anonymity.
"I know he's watching television because he's calling me five minutes after a CNN interview and MSNBC interviews and Fox interviews," said the Republican member of Congress. "I mean, so he's watching and he immediately engages."
Sen. David Perdue (R-GA) had similar anecdotes about Trump calling him after he appeared on television and after he was quoted in a newspaper article in which he compared the president to Winston Churchill.
"And so he saw that New York Times article — he called me up and said, 'So you think I'm like Churchill?'" Perdue said. "He didn't think that was a compliment."
Even one-time Trump foe Sen. Lindsey Graham (R-SC) has received a phone call from the president after appearing on a cable news program.
"It was good. He said, 'You did great,'" Graham said. "Can't remember the show, but he did it one time."
The New York Times reported in Dec. that the president watches as much as eight and a half hours of television in a single day.
[image via screenshot]
—
Follow Lawrence Bonk (@sidescrollers) on Twitter
Have a tip we should know? tips@mediaite.com