Rick Santorum: 'I Meant Nothing Ill Towards John McCain' But 'He's Wrong' On Torture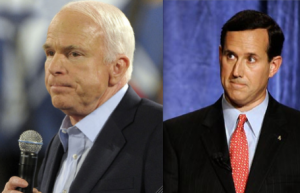 Republican presidential candidate Rick Santorum recently declared torture is something that Republican Senator John McCain "doesn't understand." Some are demanding an apology from Santorum for such a statement, yet yesterday during a radio interview, Santorum attempted to scale back his critique of McCain and instead focus on defending the use of enhanced interrogation techniques.
Santorum clarified his opinion on McCain's views:
"I think John McCain is a great man, he served this country well. He obviously endured a lot. I meant no – nothing ill towards John McCain, it's just a policy disagreement. I respect his opinion, I think he's wrong. And I think that when Barack Obama got up before the United Nations and said that he stopped torture in America, it was one of the worst moments of his presidency."
Whether this ends the back-and-forth between Santorum and supporters of McCain (one who referred to Santorum as the dumbest member of the Senate) remains to be seen, yet given Santorum's tendency to make awkward statements, it's likely a different controversy could eventually arise.
Trying to put out a fire on a different front, later in the interview Santorum also was given a chance to respond to Joy Behar's recent assertion during a talk with Don Lemon that Santorum is a "homophobe." Santorum strongly disputed the accusation, instead arguing anyone who supports traditional marriage unfortunately gets labeled with that term.
Listen to the clip, eleven minutes into the second hour of the The Steve Malzberg Show.
Have a tip we should know? tips@mediaite.com