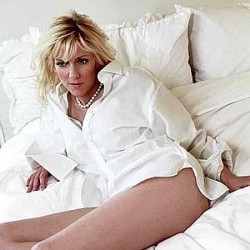 Well, it looks like no matter how much you wish for it the Edwardses and their scandals are not going away (they're sort of like the Clintons except without the brains and success). Behold the latest installment. Rielle Hunter, former(?) mistress of John Edwards and mother of his daughter Frances (whom he officially admitted paternity of earlier this year), has given an interview to GQ for their upcoming April issue, something she felt comfortable doing now that "Johnny" had gone public. (Had she done it before she would have, um, "emasculated" him). It sort of goes down hill from there.
Interestingly, Hunter says it was Andrew Young's idea to claim paternity. Alas, according to Hunter, the Dave Matthews anecdote is completely false ("No. We were on the porch, and it was raining. Those are the only facts that are correct about that night in Andrew's book. It astonishes me. The story is good enough without all the lies.") From GQ:
"I feel comfortable talking now, because Johnny went public and made a statement admitting paternity. I didn't feel like I could ever speak until he did that. Because had I spoken, I would have emasculated him. And I could not emasculate him…. He's very supportive of me talking now….It's been four years. It's hard to know that people are out there speaking over and over and over again untruths. Lies. Consciously going out there and spinning the truth. Using me and Johnny and our relationship to make themselves look better, to play victim, or to get money."
"My stint as a mistress ended July 2008. And then our relationship evolved into something different. That was when the National Enquirer—the whole Beverly Hilton thing. That changed our relationship. It changed him; it changed everything. And my stint as a mistress ended. And I was and am happy about that."
"It was Andrew's idea. The first time Andrew said it, I was on the phone with Johnny, and Johnny was screaming at me about the National Enquirer finding me and photographing me. He was very angry. And Johnny doesn't scream. He's not a screamer. But he was screaming at me that day, and Andrew suggested, right then and there, "Hey, tell him that I'll claim I'm the father."
Love at first sight?: "He called me the next day. We talked on the phone almost every night for four hours. We met on February 21. On February 25-on the phone, from Des Moines, Iowa-I fell in love with him. Head over heels in love. I was a goner. … He doesn't lie to me…and well, first of all, infidelity doesn't happen in healthy marriages. The break in the marriage happens before the infidelity. And that break happened, you know, two and a half decades before I got there. So the home was wrecked already. I was not the Home Wrecker."
In Hunter's defense(?) she notes that she's not making a penny from the interview. So there's that. Also she thinks the fact the National Enquirer may be up for a Pulitzer for their reporting on this entire debacle is a sign that the world is going to hell. Read the whole thing here.
Have a tip we should know? tips@mediaite.com